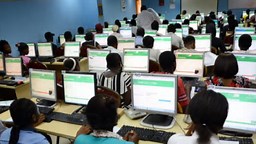 The Joint Admission and Matriculation Board (JAMB) have debunked allegations of reducing cut-off marks for admission into higher institutions to favor certain parts of the country where candidates have problem of scoring low marks.
The minimum cut-off mark for admissions into university in Nigeria was set for 140, while 100 was pegged for polytechnics, innovative enterprising institutes and colleges of education. These decisions were taken at the 2018 combined policy meetings on admissions into tertiary institutions in Nigeria.
JAMB is being accused of lowering the marks for candidates from the north, but the examination body claims the policy has more benefits to candidates and institutions in the southern part of the country.
"It is not true that the policy was introduced to favor the educationally less disadvantage states. For instance, the cut-of-mark for medicine in Obafemi Awolowo University is 200, but that Bayero University, Kano is 250. The policy favors the universities in the southern part of the country and the statistics are there for everyone to check," JAMB Public Relations Officer, Fabian Benjamin, explained in an interview with The Guardian in Abuja.
Benjamin alleviates the fear of Nigerians insinuating that the reduction of cut-off marks is an indication of failure in Nigeria's education sector.
"It will be wrong for anybody to say that the cut-off point for an examination that is conducted for candidates determines the standard of education. Contrary to the complaints of some stakeholders, JAMB does not compel higher institution to admit candidates with the seemingly ridiculous cut-off mark.
"it was only agreed by stakeholder to provide institutions with a benchmark, universities could raise the marks above 140 but not more than 200," he said.
Benjamin revealed that 90 percent of universities in Nigeria did not admit students who scored less than 180 in 2017, adding that many institutions adopted 200 as their cut off marks.
"We did an analysis of last year's admission, and we discovered that out 1.8 million candidates that sat for the exam, only about 800,000 had what it would take them to be admitted into tertiary institution in Nigeria.
"We decided to liberalize the process because we discovered that spaces that people are saying are not enough were actually not being utilized.
"people are complaining that the government did not create enough access, but with the 2017 admission, there are spaces that are yet to be occupied in the country.
"Every student in Nigeria wants to study law, accounting and medicine. Except we want to convert all the universities in Nigeria to those offering law and medicine alone. Because there are candidates that do not want to study any other course except medicine, they are prepared to sit for JAMB three times, and the society will think JAMB has refused to offer them admission because there is no space for them to be admitted," Benjamin opines.
Source: The Guardian
By Oluwaseyi  Jeje