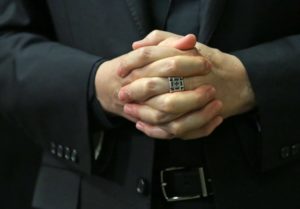 A Catholic Priest and top Vatican clergyman, Luigi Ventura is undergoing investigations by the Paris police force for alleged "sexual aggression".
Associated Press reports that a French judicial official confirmed the report, stating that the Paris prosecutor's office has decided to open investigation into the suspected 'sexual aggression' by the Catholic priest.
This reports Confirmed information published by Le Monde newspaper on Friday stating that investigations are to be conducted by the police into the incident inside the French capital's town hall.
Ventura was born in 1944 in Borgosatollo, Italy and was ordained a priest on 14 June 1969 at the age of 25 for the Diocese of Bresciaand.
He is the current Apostolic Nuncio to France and since his appointment by Pope Benedict XVI on 22 September 2009, he has worked for the diplomatic service of the Holy See.
The official is not authorized to speak publicly because investigations into the case are ongoing.
The Pope's ambassador to France is suspected of sexually molesting a young male employee at the City Hall during a ceremony on the 17th day of January.
Ventura, who is 74 years, is alleged to have improperly touched the local government employee during the annual New Year's reception converged at the Hôtel de Ville building's arcade hall.
Judicial sources tell Agencia EFE that the case was reported and investigations were launched six days later and referred by city authorities to the office of Paris prosecutor Rémy Heitz.