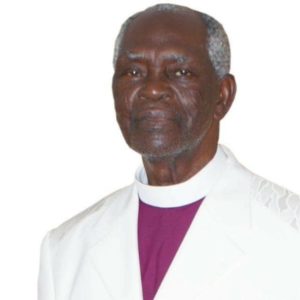 Founder of Christ Gospel Apostolic Church (CGAC), Lagos area and overseas, Apostle Paul Oladejo Okedoyin passed away last month and his son, Pastor Gabriel Okedoyin has revealed what his father spoke of few days before his demise.
Gabriel while speaking to our correspondent today revealed that his father was a peace loving man who always emphasized the importance of togetherness and truth in the midst of the brethren.
He said, "He told me Wednesday before the Friday of his death that we should be one and care for one another, love one another and we should not depart from the truth that he has taught us which God has given him. So we should make ourselves one."
The patriarch, Paul passed on at about 10:15 pm on Friday the 22nd of February 2019 at his residence in Isolo, Lagos at the age of 93.
Late Paul was said to have accomplished a lot spiritually during his lifetime on earth, as he was the founder of the Lagos arm of CGAC in 1962.
The great man of God as he was known touched lives and inspired many with his lifestyle of humility and holiness. His ministry has branches round the globe including UK, Germany and USA.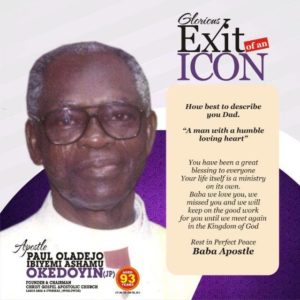 He is survived by wife, Alice Okedoyin, biological and spiritual children and many relatives.
The Apostle, as he was fondly called, had undying passion for souls of which he exhibited up till his last breath. This was evident through the leading of the Holy Spirit which led him transfer the mantle of leadership to Apostle Samson Adebayo Afolabi, in the year 2014.
Gabriel revealed that his burial plans have been finalized as eight days have been set aside for the burial.
"We set aside May 19 through 26 for the burial program. The whole thing will commence 19 to 23 at Isolo, our central church and the burial will take place at Itori our camp ground, the way to Abeokuta, then on Sunday is the thanksgiving, that is May 26 at the headquarters, Mushin."