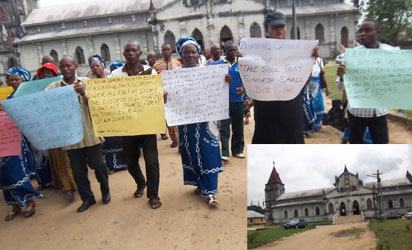 Christ Church Cathedral [Anglican Communion] Akwete, Ukwa Diocese, Ukwa East Council of Abia State is presently facing serious crisis which pitched members against the Bishop of the Diocese, Rt. Rev. Samuel Kelechi Eze who is being accused of polygamy.
Parishioners went up in arms against the Bishop and banned him from conducting church services or administering the church. They are also pushing for him to vacate the Bishop's House, his official residence.
According to reports, Bishop Eze is accused of being a polygamist; that he has two wives living with him in the Bishop's Court. Other accusations border on maladministration of the church as well as not taking proper care of the priests working under him in the church.
The attention of the head of Anglican Church in Nigeria, the Primate, The Most Rev. Nicholas Okoh has been drawn to it even as the laity of Ukwa Diocese organized a protest against the Bishop. Members petitioned the Primate, urging him to intervene in the matter.
In the petition dated October 17, 2017 entitled: "Urgent need to intervene and save the Cathedral Church of Christ, Akwete from certain doom", the members, in addition to accusing Bishop Eze of practicing polygamy, alleged that he dissolved the Church Committee duly elected and set up a seven-member caretaker committee; that he runs the Cathedral purse with a priest who has been transferred out of the Cathedral for eight years and that the Bishop demoted and transferred the church's resident canon, Vanguard reports.
Bishop Eze, has however denied all allegations, referring to them as trash, borne out of tribalism and selfish desires. He wondered how a Bishop would marry two wives. He said that the matter is being handled by the Primate and warned that it is an issue that could lead to serious litigation. He accused the Archbishop of the Province of Aba, Dr. Ikechi Nwosu of being the mastermind of his travails.
Responding to the petition, the Primate mandated the Aba Provincial Bishops under the leadership of the Archbishop, Most Rev. Ikechi Nwosu, to investigate the allegations against Bishop Eze. A total of seven Bishops from the province joined the Archbishop in the panel. They were said to have sat four times during which they interviewed Bishop Eze. The aggrieved church members as well as undertook independent investigations.
The days ahead will determine the outcome of the Ukwa Diocese crisis.
By Ololade Olatimehin