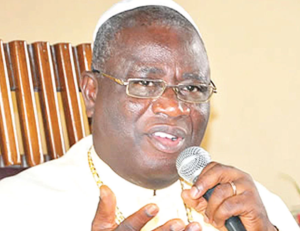 2019 Elections: Methodist Church Warns Igbos against Boycott
A note of warning has come the way of Igbo residents in Lagos as the Methodist Church of Nigeria (MCN) has advised them against boycotting the 2019 general elections.
The church handed down the warning on Tuesday as they admonished people from the South-East against nurturing the idea of apathy.
Speaking at a press conference after a tour of Umuahia Archdiocese of the church, the Prelate of the church, His Eminence Dr. Samuel Chukwuemeka Kalu Uche prevailed on them not to settle political wars at the field, stressing that "If we boycott it, others will rule us."
Prelate Uche who emphasized the need for dialogue, complained about the unabated marginalization of Igbos as no Igbo man occupies any position out of the top three echelons of political power in the country, while recalling "what caused the civil war is still there and Nigerian is still afraid of the Igbos."
The cleric who was also quick to attribute the country's enlightenment and civilization to the Igbos warned the Federal Government not to hold the legislature to ransom, stating "no one person is greater than Nigeria. Nigerian leaders should learn to be servant-leaders."
Urging people to be aware of their rights, the prelate added, "Leaders deliberately impoverish the people so as to manipulate them, as well as using children as thugs and buying drugs for them. Nigerian politicians are not known to mean well for the people, but are hawks in sheep cloths. Such politicians should be voted out," the Prelate submitted.
Advising politicians not to punish Nigerians because of their suffering and smiling attitude, Dr. Uche opined that all levels of government has failed in their duties and must rise up to the challenge. "Any government at any level that cannot pay salaries should not expect to be voted back; they should be voted out."
The cleric challenged the Independent National Electoral Commission, (INEC) to prosecute a credible free and fair election and further ensure that the best wins at all levels.
He also charged the Abia State Environmental Sanitation Authority (ASEPA) on cleanliness and the urgent need to clear the huge refuse that abound in the state, particularly, Umuahia.