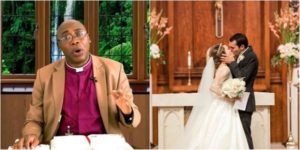 Reverend Reprimands Couples Kissing During Church Weddings
The Bishop of Niger Delta West Diocese, Emmanuel Oko-Jaja, has stated that the act of a groom and bride kissing during their wedding ceremony at the altar is a sin.
Bishop Oko-Jaja gave the admonition recently in a sermon during the child presentation and thanksgiving service of the baby, Woyengilayefa Godfriend Atasiat at St Mark's Anglican Church, Biogbolo in Yenagoa, Bayelsa State.
According to the cleric, couples kissing during their wedding is unscriptural and should be discouraged.
Oko-Jaja said, "The practice where couples are allowed to kiss in the church during wedding service is unscriptural. I wish to direct clergymen and church workers in this Diocese to guard against such unholy conducts."
The cleric stated that the practice taking place in churches during matrimonial services promotes immorality and can corrupt the mind of teenagers and young adults that are witnesses to the practice.
He said, "According to the scriptures, the church is not supposed to serve as a place meant to promote immorality but encourage people to uphold and practice Christian virtues with a view to winning souls for Christ."
He opined that the act of allowing a groom kiss his bride in the full glare of both the young and old persons emanated from the teachings of false prophets.