Head of the Roman Catholic Church, Pope Francis, has advised everyone to embrace peace and see politics as service to humanity. The theme of political peace was apparent throughout the Pontiff's New Year message to the world.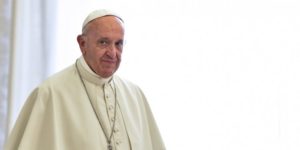 The Pope urged people to shun violence and adopt peace in their dealings in the New Year. He noted that the ultimate result of of good politics is peace, adding that peace, just like hope, is a flower struggling to blossom in the stony ground of violence.
Pope Francis called on politicians to always choose good politics over politics of strife, considering the fact that "we know the thirst for power at any price leads to abuses and injustice."
He explained that politics that is not seen as service to society will amount to oppression, destruction and marginalization. He stated his belief that political power in the right hand will be exercised rightly, calling on politicians to join the peace wagon.
The Pontiff reminded politicians of the human virtues expected of them, recalling the Beatitudes of the Politician proposed by Cardinal Francois-Xavier Nguyen Van Thuan: "Blessed be the politician, who personally exemplifies credibility; who works for the common good and not his own self-interest; who remains consistent; who works for unity; who works to accomplish radical change; who is capable of listening, who is without fear. We truly hope politicians would commit the beatitude to memory and live by them."
The Pope's message, which contained lessons many Nigerians can relate to, also served as a reminder of the vices in politics which has been Nigeria's plight for decades. Pope Francis mentioned corruption in varied forms, misappropriation of Government funds and resources, exploitation and denial of human rights, forceful justification of power and dishonest gains as the fruits of bad politics.
On youth involvement in politics, the Pontiff urged politicians to grant audience to youths as leaders of the future and as well pay attention to their participation during elections and in government decisions in order to spur their interest and carry them along, adding that the world is still recovering from the First World War even after 100 years. Consequently, he believes that celebrating the 70th anniversary of the Universal Declaration of Human Rights should make the world see commitment to peace at "three levels: peace with oneself, which rejects anger and impatience; peace with others, a willingness to listen to others including the poor and the suffering and peace with the creator which entails rediscovering our individual and shared responsibility as inhabitant of this world."