The Catholic Bishop of Sokoto Diocese, Matthew Hassan Kukah, Ex-Secretary General of the Commonwealth, Emeka Anyaoku and others have called on the government of Nigeria to ensure that the February and March polls are free and fair.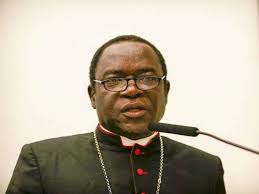 They made the call in Lagos on Tuesday at a symposium, themed; "Electoral Integrity, Legitimacy of Democratic Institutions and Good Governance", organized to unveil the new logo of the Nigerian Tribune.
Others who advocated the cause were United States Delegate to Nigeria, Stuart Symington, former envoy to the Netherlands, Tokunbo Awolowo Dosunmu and Convener of Save Nigeria Group (SNG), Tunde Bakare.
NAN reports that Anyaoku said Nigerians and the international world look forward to credible elections, and as such the Federal government, the Independent National Electoral Commissions (INEC), security agencies and other institutions are expected to meet these expectations.
He emphasized that the world has taken interest in the affairs of the country, and the conduct of February and March elections will greatly determine how international bodies will receive Nigeria.
Anyaoku said, "As our country is preparing for the general elections in two weeks' time, I have three observations to share with the Nigerian government, INEC and others.
"First, Nigeria's friends and the whole of the international community are watching. Watching the behavior of Federal Government and its agencies, especially the police, the army and the other law-enforcement agents, to see how far we respect the country's constitution, the rule of law and the obligation to act well in playing their roles in respect of the elections.
"From my long experience in international politics, I must say no country is an island unto itself, especially in our increasingly globalizing world.
"Therefore, our Nigerian government, like other governments all over the world, while of course guarding its sovereignty, should pay heed to the views of the international community. Otherwise, the country would return to the pariah status which she happily exited in 1999 when it once more embraced democracy.
 "I urge INEC to remain aware of the fact that the credibility of the results of our forthcoming elections will depend on the level of impartiality and transparency it demonstrates in ensuring all aspects of the elections are free and fair, thereby making the results to truly represent the will of the people.
"Indeed, the image and standing of our country within the international community will be significantly affected by how INEC and the Federal Government as a whole are seen to behave in all matters relating to the elections," he said.