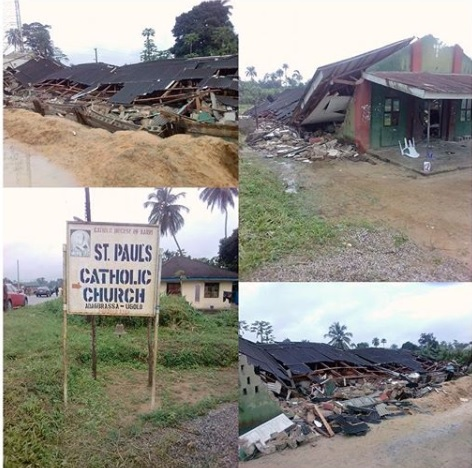 St. Paul Catholic Church, Adagbrasa-Ugolo, in Okpe Local Government Area, Delta State has collapsed during morning mass on Sunday morning leaving many worshippers reportedly trapped in the church.
According to reports, eye witnesses revealed to a correspondent that the cause of the collapse could not be ascertained yet.
The State governor, Ifeanyi Okowa however expressed his sadness over the death of the worshippers. He described the ill-fated incident as a sad, unfortunate and regrettable experience, directing the government delegation to advise the government on how it can assist victims of the collapse.
Okowa prayed for the deceased and consoled their family.
"This is indeed a very sad and unfortunate incident. On behalf of the Government and people of Delta State, I commiserate with the family of the deceased and those injured, the Speaker of the Delta State House of Assembly, Chairman of Okpe Local Government Council, Chief Julius Scott, the Orodje of Okpe, HRM, Orhue 1, Major Gen. Felix Mujakperuo (retd) and the entire Ugolo community in Okpe Kingdom over the unfortunate incidence."
"It is our prayer that the soul of the deceased will rest in peace, and that the injured will experience quick recovery. Our thoughts and prayers will continue to be with the people of Ugolo in Okpe Kingdom over this tragedy." the governor said.
Okowa has directed a delegation led by the State's Commissioner of Works, Chief James Augoye to visit the scene with the aim of unravelling the circumstances surrounding the collapse of the church building.
Unfortunately, two worshippers have been confirmed dead with many injured at the 100-year-old church.
By Oluwaseyi Jeje