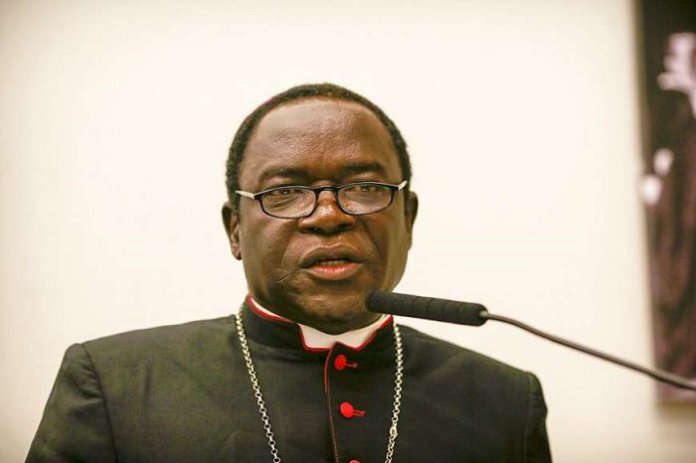 Cleric Urges Christians to Influence Political Change with Gospel Values
By: Oluwaseyi Jeje
October 11, 2018
Bishop of the Catholic Diocese of Sokoto State, Matthew Kukah has tasked Christians to influence their immediate society, especially any political group they belong, with the values of gospel of Christ
He made this statement on Tuesday, while presenting a lecture titled, 'The trying triangle of politics, economy and faith: through the eyes of the needle,' at the annual lecture of the Foursquare Gospel Church of Nigeria, in Lagos.
The cleric emphasized that Christians should use the gospel values to influence not just political space but their individual, family, communities, and the larger society rather that thinking about just participating in politics.
In his words, "In my view, there can be no Christian way of playing politics in the same way that there is no Christian way of playing football.
"What Christians can do in both games is to play by the rules and use our convictions to model the behavior of others. The central question is whether we are Christians who are in politics or politicians who are Christians. The fundamental difference helps to create a minimum threshold of how we behave and what we prioritize.
"If we are Christians who are in politics, then we are guided by our consciences (which are supposedly molded by the Gospel). If we are politicians who just happened to be Christians, then we swing and swerve depending on the exigencies of the Board of Trustees and the Party.
"What is the nature of the moral armour that Christians wear to the public square in their everyday struggle for a better society? Where are the Christian values in our political or economic lives whether it is at Party or Bank headquarters?
"Imagine if we imbibed the values enshrined in what the Catholic Church calls, the Four.
"Cardinal Virtues (Prudence, Temperance, Courage and Justice), or if we were well grounded in our knowledge of and openness to the Seven Gifts of the Holy Spirit (Wisdom, Understanding, Counsel, Fortitude, Knowledge, Piety, and Fear of the Lord). What do Christians wear when they enter to confront the bulls of the Stock exchange on Monday morning?
"What armor do Christians wear when they line up to participate in their Party Primaries and other election processes? We need to answer these questions so as to appreciate the significance of the Gospel message in our political and economic life as Christians."
The cleric also stated that no one can ever hope to govern Nigeria without openly pretending to be religious, politicians do this by frequenting huge prayer grounds, rallies and quietly seeking endorsement by donation, building or contributing to building mosques or churches, 'planting seeds', funding pilgrimages and so on.
"When this masquerade has been adorned with this dubious paraphernalia, they enter Public Square with a swagger and our people foolishly believe they have elected a religious, God-fearing person into office."
Picture Source: Naija Church News