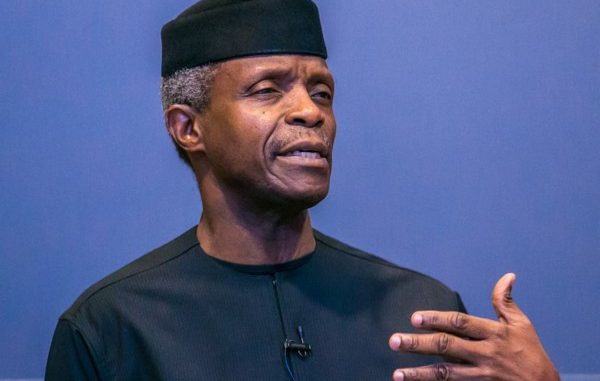 The Christian Association of Nigeria (CAN), has reacted to Acting President Yemi Osinbajo's attack on Pastors for not preaching against corruption.
Osinbajo chastised Pastors for failing to lend support to the Federal Government's anti-corruption war.
He stated this at the 30th National Biennial Conference of the Students Christian Movement of Nigeria (SCM) in Enugu, adding that preachers were preoccupied with preaching prosperity rather than righteousness.
"Very rarely do you hear our preachers talk about corruption from their pulpits. If a nation is not righteous nothing will help it."
"All of the great nations of the world were transformed by the gospel of Jesus Christ. It is not a gospel that tickles people's imaginations or dwells on prosperity. It is not a gospel that fits your fancy. It is a gospel that teaches that righteousness exalts a nation." The Acting President had said.
CAN President, Rev. Samuel Ayokunle said although Osinbajo might have exclusive information for him to make the claim, the church had been speaking against the manifestation of corruption for a while, to no avail.
In a statement by his Special Assistant on Media and Communications, Pastor Adebayo Oladeji, Ayokunle said, "Being a pastor, the acting president may know what we don't know and he has a right to correct those whose teaching or preaching contradicts the scripture.
"What we know is that the church must speak against evil in the land, corruption inclusive. The church has been speaking against the perceived genocide in the country, insecurity of life and property, hypocrisy, nepotism, greediness, tribalism, favourism, treasury lootings, lopsided appointments, etc.
"These are all manifestation of corruption. Corruption goes beyond greed and diversion of public money into personal hands. Whether our leaders, politicians and civil servants are listening is another thing entirely.
"Those who have not been preaching against the evil in the country should heed the counsel of the acting president and the leadership of CAN in turn tasks those in the position of authority to be sensitive to the yearning of the church for peace, security, job opportunities, good roads, affordable medical care, and an end to every form of hardship in the land."
Meanwhile, former aide to ex-president Goodluck Jonathan, Reno Omokiri has also reacted on twitter attacking Osinbajo for keeping mute about the abducted Dapchi schoolgirl, Leah Sharibu, who is still held captive by the Boko Haram sect.
"Yesterday, Osinbajo complained that Nigerian pastors don't support Buhari administration's anti-corruption war and berated them for not preaching against corruption.
"This is coming from a pastor VP who himself DOES NOT talk about Leah Sharibu." He tweeted.
Omokri is seen to have published a book titled "Leah Sharibu: The Girl Boko Haram Left Behind."
Source: dailypost.ng
By Ololade Olatimehin