The management and staff of Giantability Media Network, have paid a condolence visit to the Chairman of its Advisory Council, Pastor (Prof) Folagbade Aboaba, over the demise of his wife, Pastor (Mrs) Olabisi Ama Aboaba.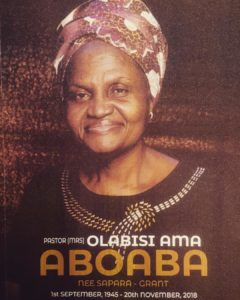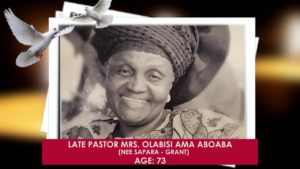 Giantability, the publishers of Livinghope Magazine at Pastor Aboaba's residence in Lagos on Tuesday, urged the bereaved family to console themselves in the Lord noting that she is in a better place.
In a condolence letter signed by the CEO of Giantability, Pastor Samuel Adeyanju, the passing of late Mrs. Aboaba was described as saddening.
Responding, Pastor Aboaba who is also a national elder and member of the Board of Trustees of the Redeemed Christian Church of God expressed his gratitude to the team for the visit. He stated his acceptance of the loss as God's will.
"She was sick for a short while, about a month or two. We thought she was picking up, but we thank God for the way she went," he said.
Late Olabisi Ama Aboaba (nee Sapara-Grant) passed on at age 73 on November 20 and was buried December 12, 2018 at Ikoyi Vaults and Gardens.
Mummy, as she was fondly called, was a counsellor, teacher, preacher and a mother. She married Professor Aboaba in 1973 and is survived by her husband, children and grandchildren.
The visit was also an opportunity to introduce the new Editor of the organization, Mr. Julius Omokhunu, who recently joined Giantability.