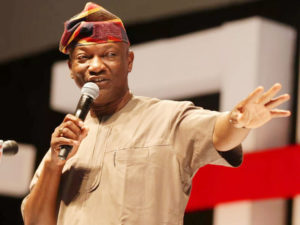 In a bid to commemorate the 16th anniversary of the Lord's Chosen Charismatic Revival Ministries, governorship candidate of the Lagos State Peoples' Democratic Party (PDP), Olujimi Kolawole Agbaje graced the church's revival crusade, yesterday.
Agbaje while speaking to journalists during the international crusade titled, 'From Sorrow to Joy' at Chosen Revival Ground, Odofin Park Estate, Oshodi Apapa way, Amuwo Odofin, Lagos state, said that it was important to join the church in their celebration as everything is in God's hand.
The candidate said, "I came to share in the celebration of the 16th anniversary of the ministry. I came to be a part of the revival, don't forget I am a Christian first and foremost. Everything is in God especially in our country today.
"When you look at the theme for this year, 'From Sorrow to Joy', I think it is very instructive, to share testimony or listen to testimonies of people that have moved from sorrow to joy. Also to pray that our country will move from sorrow to joy and that our state will move to Joy."
When asked about his consistent contest for the governorship seat of Lagos, Agbaje said, "in the first place I don't come out every year. I don't come out even in every four years. I came out in 2007. I did not come out in 2011 because I did not believe there was a need to come out in 2011. I came out in 2015 when I felt there was a need to come out."
"Some say I supply all the medicines to government that is not true. I am not a government contractor; I don't do business with Lagos state or Federal Government. I am a private business person.
"Again it is not correct that I don't do anything between elections. Since 2015 I have been very active politically in motivating the younger ones to be part of the Democratic process in this country and even politically you will remember that, for those of you who follow the news, that I ran for national chairman of my party(PDP).
"If I am someone that just wants to sit down and wait for something I would not do that. I believe that as a Christian we must continue to occupy the space to lead this country. Nobody should be discouraged from doing that."
Speaking on the electoral process, the candidate said, "we hope that the agencies that are responsible for bringing about free, fair and credible elections, so we want to be sure that INEC is going to be free that is very important and that security agencies will do their work rather than seen as part of a political party or the other. Political class must see this as something that must be done well and democracy must be done well."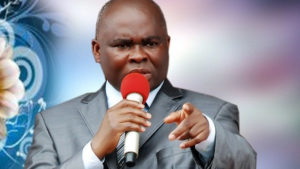 Giantability News' Anne Bassey gathered that testimonies of miracles, restorations, favor, breakthrough and deliverance were the order of the day.
A woman gave account of receiving a miracle alert of a 100 thousand naira at the General Overseer's declaration of miracle alert, while many testified of healing from stroke.
The General Overseer, Pastor Lazarus Muoka, ended the  crusade by charging the sorrows of the congregants had turned to joy.