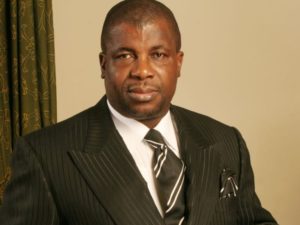 One of Nigeria's charitable persons, working tirelessly to reduce poverty by creating employment opportunities for Nigerians and championing basic healthcare for the vulnerable in the society, Sir Onyebuchi Emeka Offor is a year older.
The Anambra State oil magnate and entrepreneur, who is the incumbent Chairman of the board of directors, Enugu Electricity Distribution Company (EEDC) and Manager of both the ERHC and the Chrome Group was born on the 10th of February 1957 in Kafachan, Kaduna State.
He is one of the richest Igbo businessmen in Anambra State and as at 2008; his net worth was valued at $5.8 billion dollars.
After moving to his home state, he secured admission into Abbot Boys Secondary School in Ihiala Local Government but later moved on to another secondary school called Merchant of Life in Idemili where he sat for WAEC Examination in the year 1977.
His adventure into business was put into gear by his uncle who tutored him as an apprentice. Then in 1994, after amassing enough wealth of experience in several businesses, he launched the Chrome Group which has interests in several sectors of the economy such as the oil and gas, international holdings and domestic holdings in telecommunications, power sector and the insurance industry. The group is also into gas pipeline construction, refinery maintenance and digital inspection services delivery.
With his involvement in numerous charities, he has provided millions of books, computers and school items to further improve the standard of education in the country as well as the West African sub-region.
The Sir Emeka Offor Foundation(SEOF), which is a non-profit organization is a project targeted at alleviating poverty and improving the lives of the marginalized and the unprivileged in the country.
The business mogul is the owner of the most popular and oldest market plaza in his state known as the Emeka Offor Plaza, valued at about a billion Naira.
He has in his kitty several awards, one of which is the International Service Award for a Polio-Free World by the Rotary International for his immense input for the eradication of the scourge both in the country and in the world.
Sir Offor got married to his wife, Nkiru Offor, from Oru Local Government, Imo State in 1982 is blesses with 8 children consisting 3 male and 5 females. He also has another wife named Adara Ofondu.
President Muhammadu Buhari has congratulated the businessman and philanthropist, on his birthday.
In a statement by his Senior Special Assistant on Media and Publicity, Malam Garba Shehu, in Abuja on Sunday, President Buhari joined family, friends and well-wishers across the nation to celebrate the business and humanitarian leader
He also commended Offor's dedication to polio eradication in the country, abiding commitment to democracy as well as his numerous contributions to the ruling All Progressives Congress (APC) party.
Buhari prayed almighty God to grant Sir Offor good health, joy, love and peace to keep working for a brighter future for Nigeria.
Giantability News prays that as you mark your 62nd birthday, God's infinite mercy will continue to see you through more graceful years both in good health and prosperity.
The words in the book of Psalms shall be your portion. "It is well with the man who is gracious and lends; He will maintain his cause in judgment. For he will never be shaken. He has given freely to the poor, His righteousness endures forever; His horn will be exalted in honor."