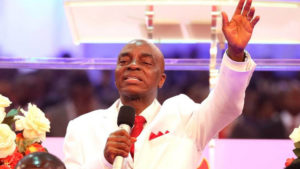 General Overseer of the Living Faith Church, aka Winners' Chapel, Bishop David Oyedepo has declared that "Nigeria is long overdue for settlement," querying why the country cannot manage an ordinary election.
Bishop Oyedepo who made the proclamation during a sermon on Sunday at the church headquarters in Ota, Ogun State condemned the country's retrogression as he wondered if any progress can be picked in any area.
Giantability News, monitoring the sermon reports that the Bishop's statement is coming on the heels of Saturday's postponed election as he bemoaned the stress many Nigerians went through to perform their civic duties only to be disappointed by the nation's electoral umpire, the Independent National Electoral Commission (INEC).
The Bishop stated, "You can't tell how many people travelled to their various homelands to go and vote. You can't tell how many had accidents.
The man of God further lamented that Nigeria has become, "a country where people kill people so they can win election." He further noted that without the church of Christ in Nigeria praying, "Nigeria is gone. Devils have been having a filled day."
Oyedepo prayed that God recompenses tribulation for all that trouble Nigeria wherever they may be within and outside the country while referencing 2 Thessalonians 3:16, in praying that God will give peace to the nation by all means and not war or bloodshed.