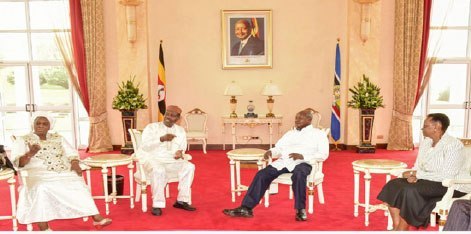 General Overseer of the Redeemed Christian Church of God, Pastor Enoch Adeboye, along with his wife, Pastor Folu Adeboye has rounded up an evangelical visit to the Uganda President and his wife, Yoweri and Janet Museveni over the weekend.
Pastor Adeboye and his wife honoured the invitation to Kampala, Uganda to hold series of Christian public meetings at Kololo Independence Ceremonial grounds which began on Thursday.
Adeboye's meeting with President Museveni at the State House Entebbe on Thursday witnessed the nation's number one citizen receive prayers from the man of God who prayed for the president's good health, prosperity and the continued wisdom to peacefully lead the country.
In his speech, the President expressed his pleasure with the current participation of Pentecostal Churches in projects which in turn creates prosperity for themselves and other people, saying, "Christians are now to create wealth on health as per the parable of the talents."
While reiterating his opposition with some of the teachings of the Christian doctrine during his days as a student, he is elated that the Pentecostal Churches is now integrating and helping people.
In response, Pastor Adeboye appreciated President Museveni for maintaining peace in his country, explaining that Christians have the duty to influence all facets of life and well-being.