A pastor's 12-year-old daughter has died after a snow fort collapsed on her on Sunday while she played near her church.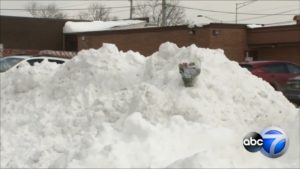 Esther Jung and a nine-year-old girl were attending services with their families at Rothem Church before they went out to play in a nearby snowbank, according to Arlington Heights police in Illinois.
The adults found the collapsed fort about an hour later and called for help.
Jae Kim, the 9-year-old's great uncle, said she was not completely buried and tried to yell out for help.
"She cried out, 'Help me. Help me,' but nobody heard it," he said.
The police said both children were taken to hospital but Esther died shortly after arrival as a result of asphyxia and hypothermia.
Her friend was released from hospital on Monday after being treated for hypothermia and is expected to survive.
Esther's father is the pastor of the Rothem Church where they were playing. Family members said Esther was the youngest of three. They described her as a smart, strong and beautiful girl who had dreams of being a veterinarian.
At her family's home in Elk Grove Village, neighbours told ABC news that Esther would often build snow forts in the front garden.
Neighbour Peg Gradl said: "It's just so sad. It's something she loved to do, and she did regularly, so she was probably confident in her skills.
"Two little girls just having fun in the snow. It's so normal, but it's a danger we don't often think of."
The Arlington Heights Police Department has said it does not suspect foul play and has ruled the incident as an accident.