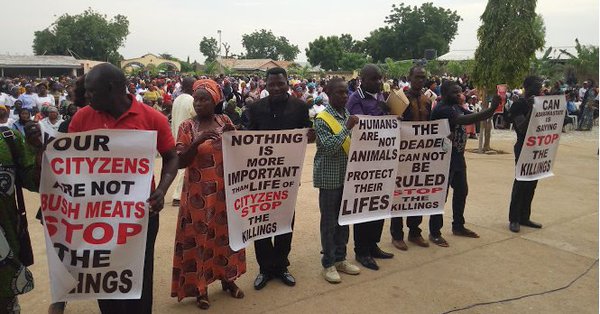 Reports have it that the police in Adamawa state have shut off a peaceful protest organized by Bishop Stephen Mamza, the state chairman of Christian Association of Nigeria (CAN).
On Wednesday, August 1, Mamza called for the protest and a number of Christians gathered at the Saint Theresa Catholic Church, the planned venue.
The Chairman said the protest was to draw the government's attention to the protection of human lives whether Christian, Muslim or Fulani.  He gave an instance of the recent attacks in Mayo-Belwa which claimed the lives of several Fulani.
Punch news reports that shortly before the take-off of the protest scheduled for 9 a.m., the chairman told the congregants who had turned up for the protest that the police had stopped it.
The association also spoke against the federal government's neglect of the state of security. It said the FG's silence was disturbing because the killings have not declined.
The procession, according to Mamza which was refused, would have given the church the opportunity to lay its petition to the State Governor, Mohammed Jibrilla, who will then pass it on to President Muhammadu Buhari.
"The police have refused to grant us the permission but they cannot refuse us access to God. The police have no authority to stop us access to God."
By Ololade Olatimehin