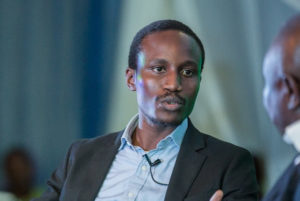 President's Aide Counters Bishop Oyedepo's Claims
Following Sunday's statement by Bishop David Oyedepo about President Buhari being dead and cloned, Special Assistant to President Muhammadu Buhari on Digital and New Media, Tolu Ogunlesi has lashed out at the cleric.
The special adviser stated this on Monday denying the spreading claim that the president in Aso Rock has been cloned as Jubril Sudan.
In a video posted on SaharaTv and titled 'Cloned Nigerian President: Bishop David Oyedepo', the cleric is seen quoting an article written by Olatunde Dare, a columnist of the Nation Newspaper.
The Bishop claims that president Buhari could have died when he embarked on his medical treatment to London and then someone cloned as him is currently presiding over Nigeria.
Citing the piece, he said the Nigerian government had reached an agreement with a family in Sudan to give them a replacement for the president and now the resources of Nigeria is being shared with Sudan.
Oyedepo, who spoke at Living Faith Church Headquarters at Canaan land, Ota, on Sunday, urged Buhari to urgently address the allegation.
On the contrary, Ogunlesi took to his twitter handle to counter the Bishop's claims. He wrote, "Olatunji Dare, one of Nigeria's finest satirists, wrote a piece titled 'Buhari's Double' on Nov 27:
"Pastor of one of Nigeria's largest churches cites the satire in a sermon (apparently yest) as evidence PMB likely dead.
"I know the Bishop has always detested PMB (it's a free world, really, the right to dislike anyone is guaranteed constitutionally atink), but I don't understand why he keeps going this far to peddle/amplify (from the pulpit) falsehood and disinformation about him. Really puzzling," Ogunlesi tweeted.
Meanwhile, president Buhari has addressed the issue at an interactive session with the Nigerian Community in Krakow, Poland, asking Nigerians to debunk claims that he is cloned.