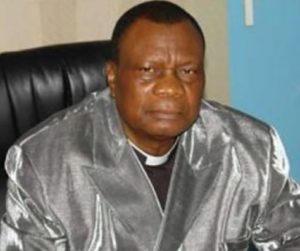 Abiara Cautions Nigerians Ahead of Forthcoming Election
The General Overseer, Christ Apostolic Church (CAC), Agbala-Itura Worldwide, Prophet Samuel Kayode Abiara has warned against the danger ahead of next year election, if the political atmosphere in the country remains the same.
Prophet Abiara expressed his concern on Saturday at an international press conference in Ibadan to launch the church's annual Jesus Festival International themed: 'And God Said'.
Abiara, who is a former General Evangelist of the CAC noted that one of the objectives of the event is to pray for peace and unity in Nigeria because the country needs it ahead of the 2019 elections.
The prophet also stated that the major danger is the unresolved minimum wage, imploring the government to approve the proposed N30, 000 even if it means cutting down some huge government expenses in the interest of the people.
He said, "Nigeria needs fervent prayers at this time, particularly towards the forthcoming general elections so that peace of God will reign before, during and after the elections.
"I seize this opportunity to call on all people of the world, particularly the politicians, people in government, business men and women, students, artisans, judges, lawyers and all professionals they should come within this week so that we can all raise our voices in prayer to God for the peace, progress and prosperity of our country," he added.
Speaking on negative prophesies regarding Nigeria, he said, "We don't need to listen to the prophets of doom concerning the country. I call on other prophets and other servants of God even if they see anything negative, we must not speak evil but pray for the peace and unity of the nation.
"Nigerians need to shun hate speeches in our efforts and campaigns especially the politicians. Hate speech must be an abomination. Politicians must speak in peace.
"Nigerians must go out to vote for people of their choices. You must not allow yourself or your children to be used as tool of violence and hooliganism. It is dangerous.
"Parents must warn their children not to be used for violence. Nigerians must not sell their vote because it has longer repercussions.
"Government must do the needful to ensure that workers salary issue is resolved. The demand for N30, 000 must be favorably considered by government because it is one of the dangers ahead. This is an issue that can cause problem and rancor if not handled well."
The festival which commenced on Monday, 3rd December will round off on Sunday. 9th December with a thanksgiving service, which also doubles as the 76th birthday of the cleric.