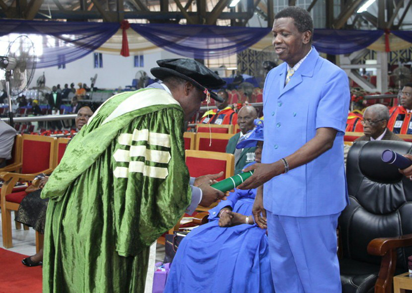 Head of The Redeemed Christian Bible College (RCBC), Professor Babatunde Adedibu has called on past students of the institution, well-meaning Nigerians and stakeholders to assemble and support the mission and vision of the school so it can become a principal theological institution beyond the African continent.
The Professor made the appeal in an address during the graduation ceremony of RCBC at the ongoing 66th annual convention of the Redeemed Christian Church of God (RCCG).
Prof. Adedibu expressed gratitude to parents, and all members of the governing council who made it possible to affiliate the institution with the University of Ibadan. He mentioned that RCBC had been approved by the National University Commission on February 4, 2018 to offer a Bachelors degree programme in Christian Religious Studies through JAMB and direct entry.
Listing the achievements of the school at its 37th graduation ceremony, he said the 2017/2018 academic session has been a memorable one as the institution has introduced a new course of study, leading to a diploma in Communication Studies.
Adedibu said  "We need lecture theatres, the provost quarters, staff quarters, more students' hall of residence, more modern lecture delivery materials, office equipment and furniture and other facilities,"
The Bible College graduated a total number of 5,670 graduands for the 2017/2018 academic session, consisting of five Ph.D's graduands, several masters' degrees, Bachelors of Science, Advanced Diploma, Direct Diploma and Online study among others. Wife of the General Overseer, Pastor (Mrs) Foluke Adeboye presented awards for outstanding students who distinguished themselves during the academic session.
Senior Pastor of Jesturdivant Ministries, Dr. James Sturdivant, admonished the graduands, urging them to win souls, obey God's word and have dominion in all areas of life. In his sermon titled: "World Overcomers", Sturdivant said  that as God's representatives on earth, the graduands must be kingdom equipped, involve in kingdom expansion and also empowered with Holy Spirit for them to overcome lifes challenges.
By Anne Bassey