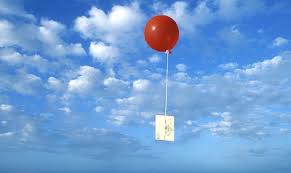 College bound teen Mykehia Curry was unsure how she would find enough money to pay for tuition and housing at Albany State University, so she decided to ask God for help. Days before she was scheduled to leave for school she tied a handwritten prayer to three helium balloons and released the note into the heavens.
"I wrote a note that said 'God please help me get the rest of my stuff for college,'" Curry said to CNN. "Then I said 'Amen, I love you God' and I wrote my name and number …  When I was writing the note, I was just trying to reach out to God. I didn't know where it would land. I thought that someone would pick it up and call me and tell me they got it or just throw it in the trash."
The balloons made their way to Gray, Georgia where Jerome Jones, a Baptist minister, discovered the note. He contacted Curry and offered to help her, providing her with a comforter and refrigerator for her dorm.
"I am very excited to meet new people and start my journey and a new chapter in my life," she said. "This is a big step for me."
Mykehia Curry, who plans to study nursing, is the first member of her family to attend college.
Source: CNN
By Keshia McEntire