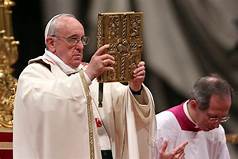 Two of Pope Francis's top communication advisors dismissed the "prosperity gospel" in the article titled "The Prosperity Gospel: Dangerous and Different" published in the Jesuit Journal titled "La Civilta Cattolica." The article was written by Antonio Spadaro, a Jesuit priest, and Marcelo Figueroa, a Protestant pastor from Argentina.
The "prosperity gospel" found its way into society through the dangerous rhetoric of President Trump's politics that tied phony theology into the American Dream and false interpretations of the Gospel from prominent US evangelists like Oral Roberts, Pat Robertson, and Joel Osteen. The false theology from the "prosperity gospel" preached by these televangelists states that the faithfully steadfast people who give money to the popular preachers will be rewarded from God with riches because of their so-called benevolent monetary deeds. This idea ties into the Trump US economic political model and the belief that God gives generously to the United States because the US has the evangelical movement. Trump even tied in the idea of the "prosperity gospel" to the military during his inaugural speech by saying, " God the army and the American dream." Opponents of the "prosperity gospel" equate this statement to mean that God gives the United States a strong military because of its wealth that came from a devotion to a God formed in the evangelical movement.
The vision of the American dream comes into play with the "prosperity gospel" when believers of this false idea accept that wealth and decadence happens to an individual because God is pleased that the individual has chosen to believe in Him, so he is rewarded. Thus, the American Dream is achieved simply because of a belief in the Evangelical God.
These ideas are especially problematic when followers the "prosperity gospel" believe that because individuals who are less fortunate like migrant workers or victims of a natural disaster have come to this lifestyle because they do not believe in God and could not be rewarded by him.
The authors of the article point out that because of the "prosperity Gospel" "There can be no compassion for those are not prosperous for clearly they have not followed the rules and thus live in failure and are not loved by God."
The idea of the Prosperity Gospel originated in the United States, but has spread to Africa, Asia, China, and Latin America.
This article is the second article collaboration between Spadaro and Figueroa.
By Susanna Redmer