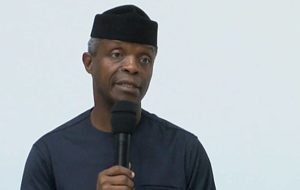 Vice-President of the Federal Republic of Nigeria, Professor Yemi Osinbajo has expressed his thanksgiving to God for his re-election into office for the position.
Professor Osinbajo made the appreciation to the Almighty during this month's Special Holy Ghost Service Vigil program themed, "Swimming in Glory 3."
The service, monitored by Giantability News, coincided with the 77th birthday of the General Overseer of the church, Pastor Enoch Adeboye which was on March 2.
Osinbajo, who is also Pastor-in-Charge, Lagos Province 48, House of Prayer for All Nations, during the call for testimonies testified, "On February 23, I was re-elected with the President as the Vice-President of Nigeria for a second term and I want to praise the name of the Lord."
You would recall that President Buhari and Osinbajo were less than a fortnight ago, voted into office for a second term defeating their fiercest rival in the election, former Vice-President, Atiku Abubakar with a convincing victory.
The nation's number 2 citizen also testified of God's preservation of his life on February 2 when he, along with eleven others, survived a helicopter crash in Kabba, Kogi State, following Daddy G. O's prayers over him for special protection the previous night.