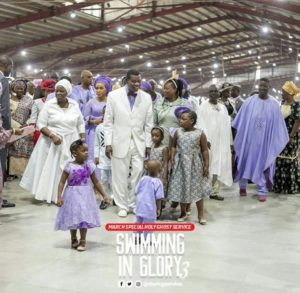 General Overseer of Redeemed Christian Church of God (RCCG) Enoch Adejare Adeboye who just clocked 77 years, has told the crowd of worshippers on Sunday that God's mercy has prevented the service from being a memorial service organized for his sake.
Giantability's Anne Bassey, monitoring the program reports that the cleric spoke of God's mercy during his sermon at the March Special Holyghost thanksgiving service which took place at the 3km by 3km arena, Shimawa, Ogun State.
Daddy G. O's testament does not state clearly any mishap but simply suggests the Pastor might have overcome death recently.
Adeboye said, "I cannot thank God enough for what He has done in my life. It's not all testimonies that you can share in public. If you share some of them, people will wonder. But I remember telling some of my children not too long ago that another General Overseer visited us and he began to tell me all that God had done in his ministry.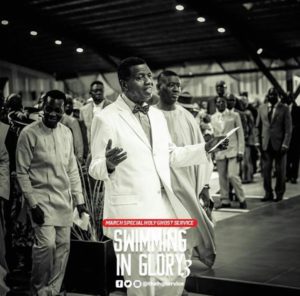 "I kept on saying, ha! wonderful, praise God, glory be to God. After almost one hour he said, Daddy I am the only one talking, you've not said anything. I said sir, if I tell you all that God has been doing for me, you will say that God is partial that's why some of us can't say it all. We have to keep some of them.
"But there's one particular point that I must make this morning. I wouldn't give you the details. But for God, I wouldn't be alive today. But for God, this would have been a memorial service, but for God. Could somebody help me shout Halleluia!" He implored.
He went on urging the congregation not to bother with the details but rather join him in thanks, "don't try to find out the details, just keep on praising God".
Adeboye devoted the last one week of the Special Holy Ghost Service themed; "Swimming in Glory 3" to mark his 77th birthday, a program which kick started on Thursday, 28th February 2019.
The period featured intercessory prayers for God to have mercy on Nigeria and countries of the world, "Thank you for all of us Lord. Thank you for your church. Thank you for even our countries. Thank you for peace so that we can gather together like this. Please accept our thanks in Jesus name."
He further thanked the departments that made the Special Holy Ghost Service a huge success.