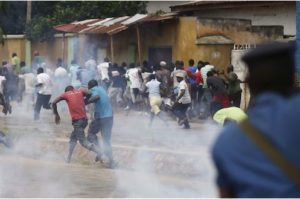 Scores of irate youths have disrupted a church crusade in Niger State, injuring ten people.
The unfortunate incident occurred on Monday in Tegina town of the state.
The crusade is reportedly organized by a convert, Prophet Shuaibu Bashir, who is believed to be from a royal family in Sokoto state.
Prophet Bashir, according to reports, have been converting people and healing the sick in most of the crusades he held.
The Nation reports that the incident which occurred just as the crusade kicked off witnessed some youths from another religion storm the venue and beat up worshippers.
Eyewitnesses narrate that the youths, using different objects, beat up attendees of the crusade, causing them to run for their lives.
The witnesses also alleged that the violent youths had five vehicles destroyed and took away two motorcycles from the venue.
Lamenting the attack, the organisers of the crusade disclosed that they had obtained permits from the Police and Emir before proceeding with the crusade.
Meanwhile, the state's Police Public Relations Officer, DSP Muhammad Abubakar, confirming the attack, said only five people were injured but however confirmed that no arrest had been made in connection with the incident as the youths took to their heels as the police arrived.
Though Abubakar stated that nobody in the community could recognise any of the attackers, he however assured that the police was on top of the case.