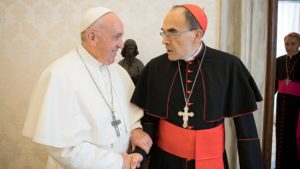 Catholic Pontiff, Pope Francis has rejected the resignation of Cardinal Philippe Barbarin who was earlier this month found guilty of covering up sex abuse of minors.
The French cardinal, who is one of the highest-ranking officials embroiled in the cover-up, disclosed this on Tuesday, saying that the pope rejected his resignation following his conviction in the case.
The New York Times reports that the Lyon based Cardinal, who is one of France's most senior Catholic clergymen, stated that Barbarin had been sentenced to a six- month suspended jail term for the cover up by his subordinates. He however denied any wrongdoing and is appealing the conviction.
Pope Francis cited the presumption of innocence for rejecting Barbarin's resignation, according to a statement by the cardinal's diocese in Lyon, France.
"Monday morning, I handed over my mission to the Holy Father. He spoke of the presumption of innocence and did not accept this resignation," Barbarin said in a statement.
Barbarin's deputy, Rev. Yves Baumgarten, would assume leadership of the archdiocese on a temporary basis.
Catholic priest Bernard Preynat admitted to abusing boy scouts during the 1980s and early '90s. Barbarin and five former aides in Lyon were accused of covering up the abuse.
A victims' association had insisted the case be taken to court, which is allowed in France but Barbarin and his co-defendants argued they did not know about the abuse until it became public.