Tuesday's terrorist attack in Nairobi, the Kenyan capital has attracted condemnations from Christian leaders both within and outside Nigeria.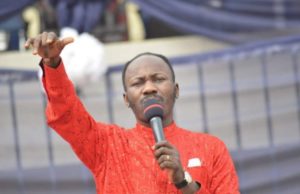 The list of reactions has continued to swell with President of Omega Fire Ministries Worldwide, Apostle John Suleman voicing out against the incident.
Apostle Suleman, reacting to the attack through his verified Twitter account, spoke against the Kenyan bombings in the name of religion.
The outspoken cleric wrote: "I condemn the bombing in Kenya, no religion teaches violence or murder.
"Nobody should claim to be worshipping God whilst taking human lives? You kill because you are wicked not because any holy book supports it," the apostle stated.
In the same vain, Archbishop of Canterbury, Justin Welby in a post on his verified Twitter page, condemned the attack.
The Archbishop stated: "Our hearts go out this evening to those caught up in the Nairobi attack. We pray for victims and for families grieving or waiting for news. We thank God for the security forces.
"We pray for peace and calm to reign. May all in Kenya know the love and comfort of Jesus Christ," he concluded.
An unknown number of gunmen attacked an upscale hotel and office complex in the heart of Kenya's capital, Nairobi, on Tuesday, marking the return of insecurity to East Africa's commercial hub 5½ years after a similar attack on a mall just a mile away took nearly 70 lives
The attack, began at about 15:00 local time (12:00 GMT) with gunshots and an explosion. The incident witnessed people take to their heels and scamper for safety at the compound in the Westlands district of the Kenyan capital, which houses the DusitD2 hotel.
CNN reports that at least eleven people died at a restaurant in the complex in the incident, while about 30 were undergoing treatment of their injuries in hospitals. Another 50 people present at the hotel when the attack began remain unaccounted for, according to the International Society of the Red Cross.