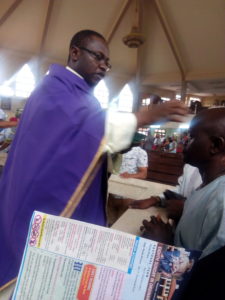 Assistant Parish Priest of St. Agnes Catholic Church in Maryland, Lagos State, Reverend Father Emmanuel Emiri has today reminded the parishioners that they are dust and will return to dust at God's time.
The cleric said this at the 12pm mass today as worshippers converged at the parish to mark the catholic celebration of Ash Wednesday, which is a holy day of obligation for all Catholics around the world.
Emiri in his homily said, "The liturgy of today seems to remind us that we are dust and unto dust we shall return. In the book of Genesis chapter 3, the word of God reminds us that we are dust and to dust we shall return."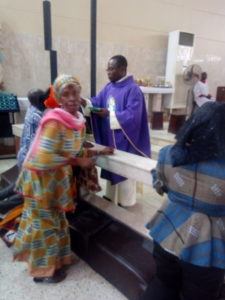 The first reading was taken from the book of Joel 2 themed 'tear your heart and not your garments' and the second reading themed 'be reconciled to God. Behold, now is the acceptable time' gotten from Corinthian 5, while the gospel reading from the book of Matthew 6 was titled 'your father who sees in secret will reward you'.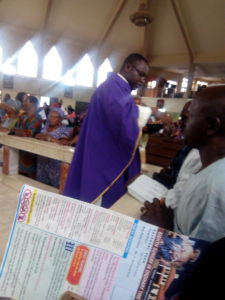 Speaking on the readings of the day, Reverend Emiri said, "Dear friend in Christ the reading tells us to come back to our God with a contrite heart, to say to Him, we have sin against you shower mercy upon us and take us back to His kingdom.
"We are called also to fast, to pray and to give arms. That's what this 40 days journey implies. And so liturgically today, the prophet tells us and reminds us that God our father has called us to fast and give arms.
"In the words of Saint Paul in 2 Corinthians in the second reading of today, Saint Paul reminds us that we are ambassadors of Christ and so we must come back to God fully reconciled. We should not procrastinate our reconciliation with our God as now is the acceptable time.
"Jesus in the gospel reading tells us that everything that there are, about the 40 days' journey with God is to return back to him, is to give arms to the poor, is to be faithful and to discover Christ." The cleric explained.
The priest concluded his sermon by calling catholics to remembrance of the significance of the ashes which they put on every Ash Wednesday.
Today, most Christian churches celebrate the Ash Wednesday, which marks the beginning of the Lenten season in the Church's liturgical programme. On the day's liturgy, ashes are sprinkled on the foreheads of Christians. And most Christians go about their daily businesses happily with the ashes on their foreheads.