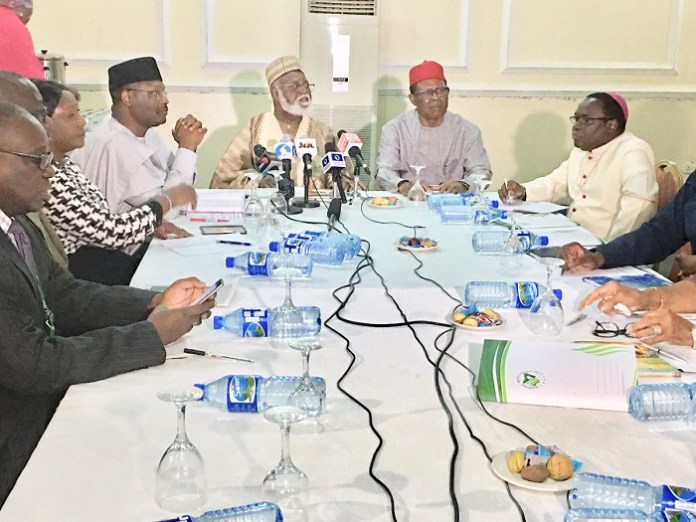 Bishop Kukah, Abubakar led Team Fears Insecurity in 2019 Elections
By Anne Bassey
Bishop of Roman Catholic Diocese of Sokoto, Matthew Kukah and former Nigerian Head of State, General Abdusalam Abubakar led team known as the National Peace Committee (NPC) has expressed fear over the insecurity of the North East and Rivers State ahead of 2019 elections.
The committee expressed its fright while speaking to newsmen in Abuja on Wednesday after a closed-door meeting with the Independent National Electoral Commission (INEC), led by its chairman, Mahmoud Yakubu, adding that the commission also raised alarm over the existence of other flashpoint areas.
Sun news reports that the chairman of the team, Abubakar stressed the need for peace in nation building, stating that where peace is not welcomed there can't be a country.
Abubakar assured that INEC is ready for 2019 polls judging from the concluded briefing with its delegates, he said "For one hour or so, he (INEC Chairman) has briefed us on the preparation for the elections, his challenges and what he is going to do in order to make sure the elections are successful, free and fair.
"We have taken note of flash areas in the states where he wants the Peace Committee to intervene in order to bring peace so that elections will be conducted. On our part, we will do the best that we can in order to help sanitize the political arena." Abubakar disclosed.
Concerning security issues, he said INEC has assured that no individual will be sent to danger regions as no political party will endanger the lives of its members. So they are doing everything possible to contain violence in order to conduct peaceful elections in 2019.
Abubakar called on the media to help educate voters and provide the public with useful information that will promote peace, saying "The media have also a role and a duty to educate our people and the politicians so that when they go on campaigning, they campaign on issues and there should be politics without bitterness and rancor.
"They should also help educate our citizens to avoid been used as thugs during campaign and during elections. They should educate Nigerians on their citizen's right to ensure that they receive their PVCs and ensure their names are properly registered, to avoid ballot snatching and all types of hooliganism during the elections.
"Our people should realize that peace is very paramount in any society. There must be peace before we conduct elections, there must be peace before we have a country. So, I employ the media, they know what people see, what people read, they have the tendency to believe it in total.
He disclosed that the committee will meet with party leaders as a precursor to signing a national peace accord.
"After the meeting with the political parties, we are going to draw a memorandum of understanding for peace and tranquility and this we hope will be signed by all the presidential candidates and the chairmen of all the registered political parties," NPC Chairman said.