The Head of the Roman Catholic faith, Pope Francis has insisted that celibacy for priests is not a subject open to debate, emphasizing that it is a "gift to the Church" and therefore not optional for priests in the Faith.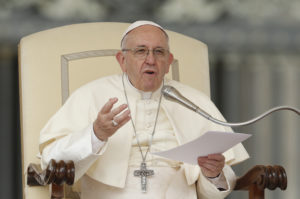 The Cable reports the Pope as saying, "Personally I think that celibacy is a gift to the Church. I don't think optional celibacy should be allowed. No, I won't do it. This remains clear. Perhaps I'm close-minded. But I don't feel like putting myself before God with this decision."
The pope explained that such may be needed "for far flung places" like the Amazon and Pacific Islands which may have "a pastoral necessity".
He added that, "This is something being discussed by theologians, it's not my decision. The issue must be open for places where there is a pastoral problem because of the lack of priests."
Celibacy, which was introduced in the Roman Catholic Church in the 11th century, has stood the test of time. However, hundreds of years have gone by and many people are anxious to see the rules change but the Pope has made clear his position on the matter in his recent discourse with journalists.
In 2018, an Italian prelate of the Catholic Church, Cardinal Pietro Parolin had said the church could look in depth at the issue, also emphasizing that the likelihood of drastic change is slim.