Pastors, evangelists, and Christian leaders have expressed their disappointment after the New York Senate passed a bill, later signed into law by Democrat Governor, Andrew Cuomo, allowing women to abort their unborn babies up to birth.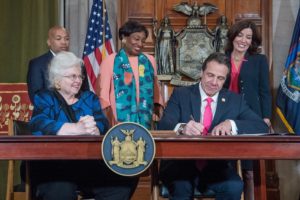 The passing of the supposed "Reproductive Health Act" on January 22 coincided with the 46th anniversary of Roe V. Wade. It removes abortion from the penal code and legalizes abortion until birth for the mother's "health," which is not defined and has been interpreted by the Supreme Court to include any reason.
While hailed as a victory by those in the pro-choice camp, the passing of the law was widely condemned by the pro-life community. Faith leaders from across denominations and traditions were some of the most vocal opponents, taking to various social media platforms to condemn the decision.
Hillsong Church founder and lead Pastor, Brian Houston described the decision to make abortion a "fundamental right" for any reason "tragic" adding that officials behind the law have "a lot to answer for."
"May almighty God have mercy on the state of New York," local media quoted opponents to the law as saying after it passed the Senate.
According to the Catholic Herald, New York State's bishops decried the move, saying the state had become "a more dangerous one for women and their unborn babies".
The bishops said in a joint statement that many of the state senators and assembly members who voted for this abortion expansion are mothers themselves, who felt their child toss, turn and kick in their womb, and delighted in the progress of their pregnancy.
"All overcame these issues to rise to leadership in our state, because their parents chose life for them," the bishops added.
"Let us all pray for the conversion of heart for those who celebrate this tragic moment in the history of our state," they said. "And we pray in a special way for the lives that will be lost, and for the women of our state who are made less safe under this law."
Pastor Carl Lentz of Hillsong NYC took to Instagram to say he is "saddened and angry" following the decision.
Lentz shared an old photo to Instagram of him and his three children, Ava, Roman and Charlie, writing, "I found this old photo recently, and I remember it taking me years to process that these LITTLE PEOPLE, had come into our world!"
"A miracle, without a doubt," he added.
Lentz ended his post by stating, "Despite this dark day, our future is STILL bright because we know where our help comes from. #occupyallstreets."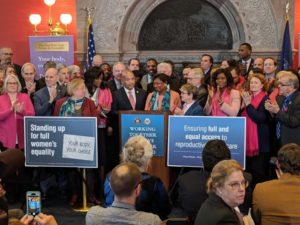 Rev. Franklin Graham, son of evangelist Billy Graham and head of the charity Samaritan's Purse, took to Facebook to point out that capital punishment has been ruled unconstitutional in New York, but abortion up to the day of birth is legal.
"In New York, a murderer, rapist, serial killer, pedophile, or school shooter can't receive a lethal injection—but a child in the womb can," he said. "The legislators that pass these laws will have to give an account to God for every murdered life one day. May God have mercy on our nation."
Earlier, he expressed horror over the fact that the spire of One World Trade Center and other landmarks were lit up in pink in "celebration" of the decision.
"What a sickening display of how far our nation has strayed from God," he said. "Someone said it should have instead been lit up in red to represent the blood of all the lives that will be lost. The Bible says, 'Woe to those who call evil good and good evil, who put darkness for light and light for darkness…' (Isaiah 5:20)."