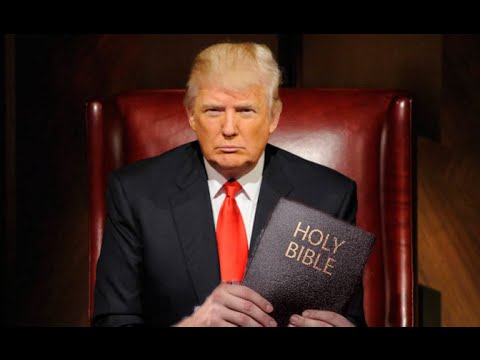 President of the United States, Donald Trump and his wife, Melania Trump were given a Bible signed by Christian leaders who attended a White House dinner honoring evangelical leaders.
During the dinner hosted by the First Lady, Florida pastor and Trump's closest spiritual adviser, Paula White-Cain presented the couple with a Bible that she says was "signed by over a hundred Christians, Evangelicals that love you, pray for you."
The following message is written in the Bible:
"First Lady and President, you are in our prayers always. Thank you for your courageous and bold stand for religious liberty, and for your timeless service to all Americans. We appreciate the price that you have paid to walk in the high calling. History will record the greatness that you have brought for generations."
While speaking at the podium following Trump's remarks, the 52-year-old White-Cain recited the inscription before the group of over 100 evangelical leaders and their spouses in attendance.
Prior to the dinner, leaders who served on the initial Trump evangelical executive advisory committee during the president's 2016 election campaign gathered in a conference room of the Trump International Hotel.
"We had a meeting of the original board members that go back to the election. We got together since it had been a while since we all got together and decided that we wanted to give them that gift (the Bible)," Georgia megachurch pastor, Jentezen Franklin told The Christian Post.
"They asked all of us to sign it. Paula White had gotten with all of us and kind of [came up with] a general theme that she wanted to say and then we could sign anything we wanted to say."
However, some critics on the political left might criticize the last part of the inscription in the Trump Bible that reads "History will record the greatness that you have brought for generations." Former Southern Baptist Convention President Ronnie Floyd of Cross Church in Arkansas explained on what the line meant.
"That [line] is in relationship to what has already happened in the administration in these first almost two years. When you think about it, the president and the administration have been able to move matters forward on so many issues that all evangelicals are concerned about," Floyd said, adding that he is referring to "conservative Americans who believe the Bible is God's word."
Not all of the evangelical leaders in attendance at the dinner signed the Bible.
Southern Baptist Convention President, J.D. Greear, who received pushback for attending the meeting, clarified that he did not sign the Bible, nor was he asked to.
Greear was not included in the group of pastors who met at the Trump International Hotel prior to the dinner.
By Ololade Olatimehin