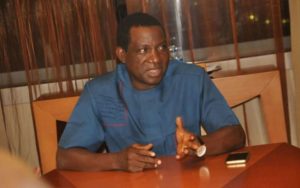 Governor of Plateau state, Simon Lalong has on Wednesday promised to organize a thanksgiving party for the return of Internally Displaced Persons (IDPs), praying that God discontinues their stay in the camp.
News Agency of Nigeria reports that the Governor made this known in Jos while distributing building materials acquired by the state government for returning IDPs to the people.
Lalong who spoke at the distribution event said he would organize a thanksgiving and party with IDPs in their inherited lands when all of them fully return home, expressing that his administration was firmly concerned about the situations that made the people flee their lands.
The governor said, "God will not allow us to continue to keep our people in IDP camps. Some have since return home and others are returning and when all of them are back we will hold a thanksgiving service."
Lalong explained that the construction materials aimed to assist the people reconstruct their homes that were destroyed resulting from the crisis that rocked the state, adding that the intervention proposal was presented to him (the Governor) by the Chairman of IDPs in Plateau state, Francis Chong.
He also stated that the Federal Government was gearing towards resettling the IDPs but that plateau state cannot continue to wait why their people suffer.
The governor further instructed the state's commissioner of works, housing and urban development to ensure the challenges of displaced persons were given apt attention.
Chong said that they have taken delivery of 180 bundles of zinc, 80 bags of three inches nails and 80 bags of four inches nails, including 150 bags of cement, 500 bags of zinc nails, 600 pieces of 2×3 wood and other materials.
The chairman added that these materials would be shared among four communities, which he listed as Buku, Ngwar, Tissan and Kura Berom.