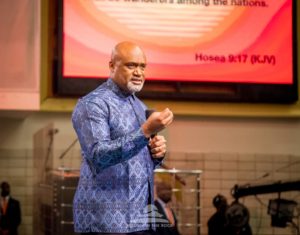 Founder and Senior Pastor of House on the Rock Church, Rock Cathedral, Paul Adefarasin has revealed what God told him about the nation.
Speaking during a church service at Onikan, Lagos, he expressed his concern to the congregants regarding the state of the country.
Pastor Adefarasin said: "I am troubled about our country and we are in a matrix moment where we can effect change."
Revealing that God speaks to him via pictures often times on national issues he said: "I saw several members of the political class all dressed in white gowns, standing up in a river of blood to the waist. And their hands were pressed forward like so and dripping with blood. And I saw a wall to the side where they stood and it said as in the book of Daniel- 'Mene Mene Tekel Upharsin.' I began to ask the lord because you never pursue when God gives you pictures.
"The impressions I got in interpretative terms were that concerning the political class. Aspects of it. I'm not speaking in a partisan fashion or partisan manner. Aspects of the political class, have been hijacked by criminals, rogues, thieves, blood thirsty men, terrorists and neofascists.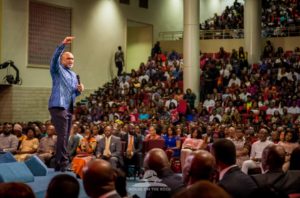 Giantability News reports he opined that the international community are having a bad perception about the country which is inimical to the growth of the economy and well-being of citizens, adding that "it is not good for the name of God the creator of heaven and earth who created all men equal and gave us the opportunity to enjoy our lives in the pursuit of happiness."
Giving the interpretation, he said "the scriptures said Mene Mene Tekel Upharsin. It means you have been weighing in the scales and you have been found wanting, your days are numbered! We do not seek to single out any person. We will not play judge, but God has already written the judgement against the wicked."
Referencing what Solomon said in the book of Ecclesiastes where Kings feast in the morning for drunkenness, spending tomorrow's resources today at tomorrow's expense he similarized saying "we've had that problem in Nigeria for more than 15, 20 years. It is not you, it is not only in the last 4 years. It continues to say blessed is the land when your king is the son of nobles and your princes' feast at the proper time. Meaning that nobility is not necessarily the wealthy, nobility simply means those who are deliberately trained for effective leadership for the benefit of all and sundry.
"That's what Nigeria needs. It needs people who have noble cause not the ignoble ill that have pervaded the political class. As we speak there are people who have an evil agenda for you. As we speak there are persons in our nation who have a wicked agenda for this country. They do not see beyond their own nose, their own need and their own greed.
"We must deal with that matter because when God reveals something he is not going to come and effect it himself. He expects the church, the people of God, the royal priesthood to rise up and pray.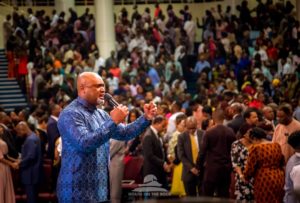 "If you are a Christian today and you cannot recognize clearly what side you are supposed to stand on, you are a faulty Christian. Whether you realize it or not, our people are being killed in their thousands and it has only just begun unless we reverse it. Institutions across many African nations have now been taken by the company of spearmen. If the spearmen get Nigeria, Africa is finished, black Africa is finished. We have a responsibility.
Leading the worshippers, the church founder who is also the host of The Experience prayed that the blood of the innocent shed be avenged for and the evil ones brought under judgement.