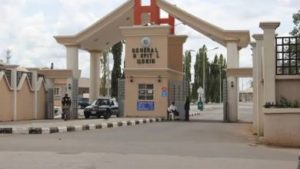 Methodist Church of Nigeria has planned moves to reclaim the General Hospital in Afon Town of Asa Local Government Area, Kwara State, which was taken over from the church by Kwara state government years back.
Giantability News gathered that, the seventh bishop of Kwara Diocese, Rt. Reverend Simeon Onaleke disclosed the information on Sunday, adding that it will take actions towards reclaiming the General Hospital seized forty years ago.
Bishop Onaleke who succeeded Archbishop Obafemi Adeleye, spoke during his enthronement service at the Cathedral of Blessings, Taiwo Road in Ilorin.
He said, "The hospital was built by the church; rather than build their own, government took over schools and hospitals built by the missionary.
"Well, if you take it and you maintain it and the people benefit from it, no one will frown at it. But in our own case and the case of the General Hospital at Afon, it has been taken over by the government and if you go there now, it is in a deplorable state; government has not been there to turn the place around. So, they should give it back to us; we will know what to do with it." The reverend said
Speaking on the theme, 'Arise, let us rebuild,' and plans to reclaim the hospital, Onaleke said, "We are going to start negotiation with the government so that we can take back the hospital. We will rebuild the infrastructure so that it will provide services to the generality of the people; generate employment for our youths and be a source of revenue to the church."