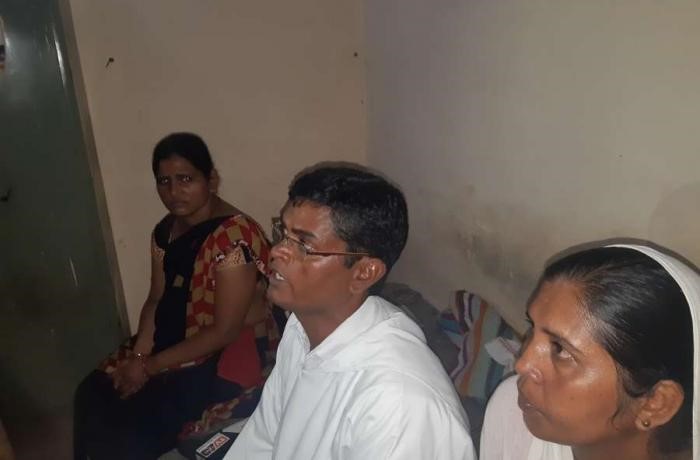 Reverend Indrapal Bharati, a Pentecostal pastor, was detained and questioned by Madhya Pradesh police. The pastor, along with his wife and assistant were consequently arrested under the accusation that they were converting Hindu youth with a promise of money.
The incident occured on Sunday, September 9 in the city of Mangawan, Rewa. The day began just like an average Sunday with Rev. Bharati organizing and leading Christian missionary meeting, which he has done for years in the city. But on the 9th, a hundred members of a far-right extremist group entered the gathering and started a commotion. The group broke up what was a peaceful worship session.
The right wing group accused Rev. Bharati of extorting the conversion of a young Hindu by offering him money if he became a Christian. Sajan K. George, president of the Global Council of Indian Christians (GCIC), told AsiaNews, "It's all false. Far-right radicals have fabricated the conversion charge."
Rev. Bharati was accused of trying to convert Mohan Kumar, a local youth, by offering him five thousand rupees, which translates to 59 Euros or $68 USD. The police arrived and arrested the pastor, his wife Mamta Bharti, and his assistant, Sharmila.
George states that the radicals continued to make a scene and slander Rev. Bharati, even after he had been taken away. The mob claimed that the reverend has corrupted many Dalits and poor people, tricking them into converting.
Anti-Conversion Laws
George claims that the anti-conversion law is a problem in Madhya Pradesh. "The anti-conversion law is used as an instrument of intimidation and harassment," he says. The Indian law passed in Madhya Pradesh in 1968 requires that converts to Christianity and their Christian pastors must acquire permission from government officials at least one month in advance or face prison time.
Madhya Pradesh is not the only Indian state with this type of legislation. Odisha, Himachal Pradesh, and Gujarat have similar anti-conversion laws in place. Rajasthan, in the north, has this type of law in the books, but it is still pending with the president of India. Arunachal Pradesh's anti-conversion law is awaiting implementation.
Jharkhand introduced the Religious Freedom Bill last year, which requires converts to report to state officials the time, place, and name of the person administering the conversion. Those who do not comply are fined up to 100,000 rupees ($1400 USD) and are required to spend four years in prison. The law has not yet been passed into state legislature.
The most recent state to add an anti-conversion law is the northern state of Uttarakhand. The law, known as the Freedom of Religion Act, reportedly punishes individuals who help with religious conversions, particularly from Hinduism to Christianity. The local governor, Krishna Kant Paul, signed the bill into law in April 2018. It carries a jail term of up to two years for offenders.
The Uttarakhand Freedom of Religion Act of 2018 claims to ban conversion by the use of force, fraud, or inducement, but include common acts such as social work, praying for the sick, or evangelism.
Indian Pentecostal Christians
In India, Pentecostal Christians are often treated as second-class citizens. Right-wing fundamentalists keep an authoritarian watch over all activities of the Pentecostal church and its activities. The Madhya Pradesh Freedom of Religion Bill is used "to harass and intimidate," according to George. "In India, there are constitutional guarantees that affirm religious freedom. But to Pentecostal Christians… these guarantees are denied."
Regarding the arrest of Rev. Bharati, George claims "these accusations are groundless. The conversions extracted with the promise of money are illicit and illegal."
Madhya Pradesh is a large central state in India. The area has retained landmarks through the eras that represent Indian history. Its Hindu and Jain temples at Khajuraho, begun in the 10th century, are known for their carvings of erotic scenes. The Kandariya Mahadeva temple, for instance, has over 800 sculptures. The Bandhavgarh and Kanha national parks offer guided safaris to the public and are most noted for their Bengal tiger sanctuaries.
By: Laurie Esposito Harley