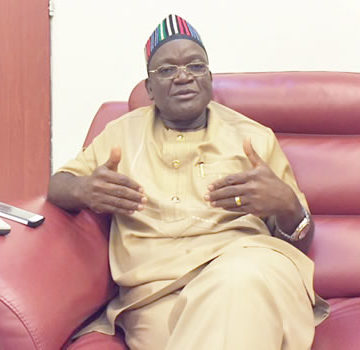 'Stop Comparing Me with Jesus Christ' – Ortom Warns Supporters
By Ibrahim Lapinni
Governor Samuel Ortom of Benue state has called on his supporters to stop comparing him with Jesus Christ.
The governor's comment was in response to inscriptions on campaign vehicles comparing him with Jesus Christ.
In a statement issued by Ortom's chief press secretary, Terver Akase, he described the inscriptions as heresy.
The statement read in full: "We have noted with dismay, the circulation of the picture of a campaign vehicle which bears an inscription that compares the efforts of Governor Samuel Ortom for the people of Benue state and the sacrifice of Jesus Christ for humanity.
"As a Christian, Governor Ortom regards the inscription as heresy as he would never, at any time, equate himself with Jesus Christ.
"The governor has never instructed anyone to make such an inscription and wishes to dissociate himself from it. He also urges the people of the state and other Nigerians to disregard the inscription which might be the imagination of an overzealous supporter or the fabrication of political opportunists.
"Governor Ortom has directed that if indeed such a vehicle exists, the owner should be requested to erase the inscription. The governor urges his supporters to always employ decorum in engaging with members of the public," he furthered.