"There Are Too Many Unbelieving Believers" -Nike Adeyemi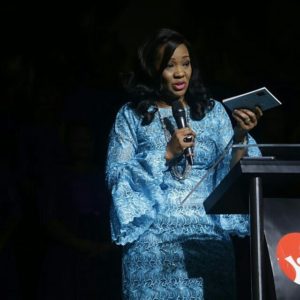 Deputy Senior Pastor, Daystar Christian Centre, Nike Adeyemi has urged Christians to focus on their goals not the problem as she tagged those who do as "unbelieving believers."
Pastor Nike who is also the founder of The Real Woman Foundation revealed this at the Love Conference Lagos, 2018, at Daystar Christian Centre, Oregun, Ikeja.
Speaking on the topic: "Look at me" culled from the book of Acts 3:2-6 and exemplifying Peter, she said, "Many of us have been stuck by fear. Fear is lurking all around.
"Place your gaze on Him, don't place your gaze on your problem, don't place your gaze on the situation, don't look at what is happening now. Don't look at Nigeria's problem. The Lord says, 'I am bigger than that.'
"He is not saying you should not plan for your tomorrow, plan with God in charge.
"Stop sinking, stop drowning, begin to float once again. Look at the God of love, liberty and look at His word.
"Many times our greatest work is to be believers. There are too many unbelieving unbelievers. We are believers but we are unbelieving and God is disappointed."
Giantability Media Network present at the event reports that she referred to bisexuals as having a "confusion of identity" which invariably results to the need for help and compassion from true Christians.
To shut the enemy up from negatives she said, "not paying attention to that matter anymore" and focusing on God is the way out.
During a question and answer session, wife of the senior pastor of Royalty Christian Center, Sunmbo Adeoye charged single ladies to enjoy their "singleness and the right person will find you."
As the occasion marked the 19th anniversary of The Real Woman Foundation, gospel artist Tope Alabi graced the event amongst other anointed women of God.