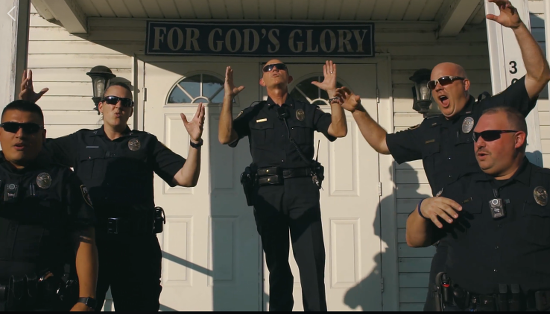 What's wrong with having a little fun?  Nothing, if you've seen the video challenge in which several police departments are participating.  The challenge involves producing a lip-sync video, sharing it on Facebook, and challenging other departments to do the same.
Several departments have been participating — mostly using popular songs in the rap, country or rock-n-roll genres.  However, the Crandall Police Department chose to do something a little different.  They chose to lip-sync to "Gods Not Dead," a song by the Newsboys.
The Crandall Police Department's choice of song, although generally accepted by its community, has been disapproved by some, most notably the Freedom from Religion Foundation (FFRF).  The organization wrote "Government employees can worship, pray, or read any religious text they wish when acting in their personal capacities. But they are not permitted to provide prestige to their personal religion through the machinery of a government office. The police department belongs to "We the people," not the department's temporary occupants."
The FFRF urged that the video be taken down based on the belief that the making of the video violates the Constitution.  FFRF Associate Counsel Sam Grover said, "The Supreme Court has long held that the Establishment Clause 'mandates government neutrality between religion and religion, and between religion and nonreligion,' The Crandall Police Department's video conveys a message to non-Christians that they are not 'favored members of the community.'"
The Crandall Police Department's video went viral.  To date the video has 8 million views and 225,000 shares on Facebook.  It also has about 18,000 comments.
The Crandall Police Chief Dean Winters was asked about his response to the FFRF's request to remove the video.  Chief Winters responded with a colon and a parenthesis — the symbol for a wink and a smile.  He said, "Of course there are always detractors.  But in this case, a little bit of darkness is making His light shine even brighter."
Winters believes that his faith is what gives him the strength to deal with his responsibilities as a police officer as well as his role as a husband and father.  He adds "I don't believe faith interferes with the ability to serve, but instead it enhances it."
The police department feels that this video is a great way to create conversations and build relationships within the community.  The department's community urged its participation in the challenge and has been quite receptive to the video, generally speaking.
Take the video down or leave it up — the controversy continues.  Meanwhile, the video remains online as something fun and engaging for the community.
By Sharon S. Johnson