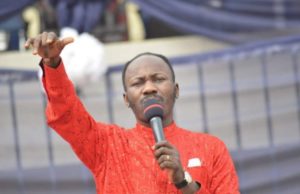 Founder and General Overseer of Omega Fire Ministry International, Apostle Johnson Suleman has advised the People's Democratic Party Presidential Candidate at the February 23 elections, Alhaji Atiku Abubakar to "go home" rather than head to the courts to challenge the outcome.
Apostle Suleman who made the appeal during a sermon on Sunday at the church headquarters in Benin, Edo State, was reacting to Atiku's decision following the former Vice-President's defeat to incumbent and the All Progressives Congress Presidential Candidate, Muhammadu Buhari at the election.
Suleman, who is well known for his critical comments on political happenings in the country, while imploring Atiku, stated that "Nigeria is bigger than everybody. Politics is a game, when you lose, don't go to court, go home. It's not your father's property, if you don't win today, you win tomorrow.
Monitoring the sermon, Giantability News reports that the Apostle also lashed out at the National Publicity Secretary of the PDP, Kola Ologbodiyan for his constant verbal abuses to political opponents.
In his words, "When you are employed as a media aide to any presidential aspirant and you are abusing people on the other side of the divide, you should understand that you are a mere employee, after election, you are fired, your futility is enlarged. So opening your mouth to abuse people is senseless."
He also had unkind words for former president of the country, Chief Olusegun Obasanjo following his endorsement of Atiku as President which in his opinion wasn't ordained by God. "No man is God. You cannot tell anyone that he is ordained to be president, you are not God."
Speaking to the congregation, the pastor expressed his displeasure at those who resort to violence against each other following their different political affiliations, informing them to "stop fighting and dying for politicians, they are friends."
Further admonishing them, the man of God added: "Many of you now in church, you are now enemies because of political party, not knowing that the players are friends. They will phone themselves and say, what you did was wrong. They'll say don't worry, we'll talk about it, but you are there killing yourselves. What this country needs is peace. Even the players do not talk verbally, don't abuse yourselves."