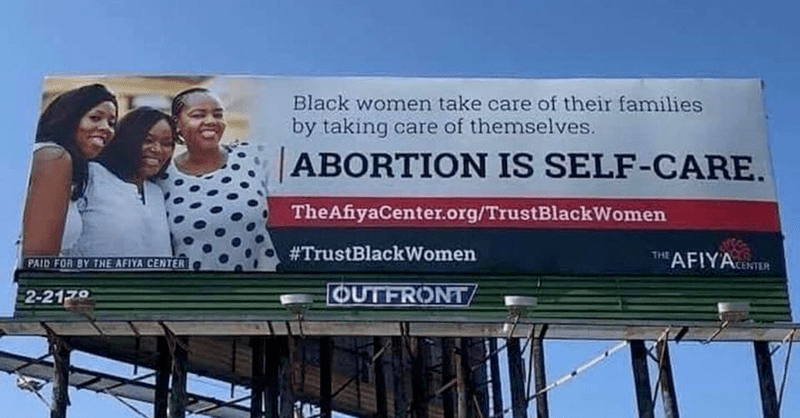 A Texas organization in Dallas is being criticized on Facebook by Christians for promoting an "abortion war against black women" with a new billboard.
According to Christian news.com, Pro-life advocate, Abby Johnson, who once worked at a planned parenthood clinic, posted a picture of the billboard on her Facebook page: "The abortion war against black women is so real."
The billboard shows three smiling African American women with a message that reads, "Black women take care of their families by taking care of themselves. ABORTION IS SELF-CARE."
The billboard is sponsored by Afiya Center, which calls itself the only "reproductive justice" organization in North Texas, founded and directed by Black women."
However, there were comments on Facebook from people expressing their disgust on how the billboard is promoting abortion.
F.J. Collin opined, "Only liberals can market racism under the banner of ease of death over life human beings. Their place in hell is special. They hope there is no God because if there is well………………and I do believe in God the Father, Son and Holy Spirit".
Deanna Freeman said, "The phrase 'self-care' should never apply to abortion."
African American, Bethany McLachlan-Reed wrote. "This black woman right here took care of her family by taking care of her babies, such ridiculousness."
"I'm sorry but self-care is a bubble bath, a pedicure, a hot cup of coffee, I don't understand how the term 'self-care' can even remotely be construed as applicable in reference to abortion." Freeman said.
By Oluwaseyi Jeje