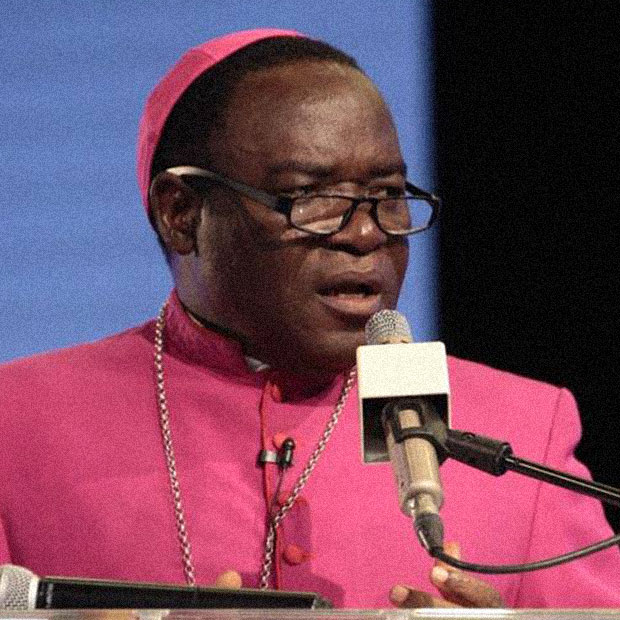 Catholic Groups Counter Pro-Buhari Group's Call against Bishop Kukah
By Samuel Mayowa
October 18, 2018
The Catholic Church in Nigeria has condemned the Buhari Media Organization's (BMO's) call for the withdrawal of Bishop Matthew Kukah from the National Peace Committee.
The Director, Church and Society, Catholic Secretariat of Nigeria, Reverend Evaristus Bassey made the condemnation in a statement released on Wednesday.
Adding their voice was Charitas Nigeria along with the Justice Development and Peace Commission (JDPC), an arm of the Catholic Bishops Conference of Nigeria for relief and development, which described the BMO's call as 'mischievous', and stating that it's not an offence for a man to do his job.
The groups also noted that Buhari recently met with Muslim clerics in Aso Rock soliciting their support for his re-election in 2019, to which the clerics pledged their support, and therefore had no right to talk about clerics being partisan.
The call for Kukah's withdrawal from the Committee is not unconnected with the Bishop's presence at the reconciliatory meeting between former President Olusegun Obasanjo and presidential candidate of the People's Democratic Party, PDP, Atiku Abubakar.
The statement read, "The animosity between ex-president Olusegun Obasanjo and Atiku Abubakar his erstwhile deputy, has long remained a national embarrassment. Bishop Kukah and the peace committee have been making efforts behind the scenes for their reconciliation.
"These attempts have been on long before Atiku became the presidential candidate of the opposition Peoples' Democratic Party (PDP).
"If the members of the BMO read Kukah's explanatory notes, they would not come up with the misleading call for his withdrawal from the peace committee. That the move was eventually hijacked and politicized is not Bishop Kukah's fault at all.
"How can the president who met with Muslim clerics to endorse him on one hand, go to an interfaith conference to berate other clerics for being partisan? Is it just because the notable clerics were involved in a reconciliation move that had opposition elements as the object?"
The statement further stated that in 2015 when Buhari was contesting for the presidency, he visited the Catholic Bishops Conference of Nigeria and was given audience.
"Why has it suddenly become a crime for a National Peace Committee convener to do his job of facilitating peace between two national figures?
"What we want to let the BMO know is that a Catholic Bishop is ordinarily so well trained and experienced, and so full of the sense of the common good, that the only partisanship he may have is what promotes the good of the poor.
"If the fear of losing elections that is the main concern here, the BMO should rest assured that the election outcome would depend mostly on how voters assess this government, and not whether Kukah reconciled Obasanjo with Atiku, that is, if the elections would be free and fair," he said.
Picture Source- The Platform Nigeria