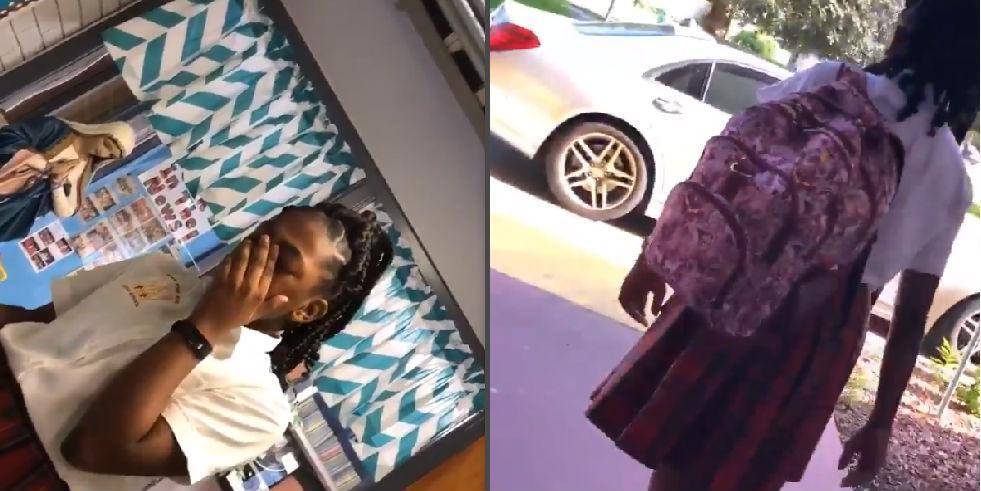 A video has emerged of a black school girl, Faith Fennidy, crying as she is forced to leave school grounds for having braids – a hairstyle the school said didn't comply with uniform policy.
Eleven-year-old Faith, who goes to Christ the King Middle School in Gretna, Louisiana, is captured by her brother, crying as a school administrator informs them that braids are not a part of the school policy, and she would have to remove them or leave.
Faith's brother, Steven, initially posted it on Facebook, writing:
"Extensions make the hair easier to maintain. It allows my sister to have access to the swimming pool without having to get her hair redone every night."
"What's wrong with her hair?" a family member can be heard asking a school administrator in the background. Faith and her family then walk out of the school and drive away.
Activist Shaun King picked up the story and accused the school of racism. He wrote:
"It just happened again. Christ The King Middle School in Gretna Louisiana expelled this beautiful young Black girl saying that her hair style was 'unnatural.'
She was humiliated and removed from the school over it.
Let's be clear – this is Christianity as White Supremacy."
Archdiocese of New Orleans Schools superintendent RaeNell Houston said in a statement:
"This policy was communicated to all parents during the summer and again before the first day of school.
Furthermore, the school leadership worked with families as needed to ensure compliance."
People online are appalled with the school's decision. Others pointed out that braids are more than just a hairstyle.
"This isn't the first time such an incident occurred in America. A boy was forced to register at a different school after he went to one and was told he would have to remove his dreadlocks or be de-registered."
"Call me stupid, but I fail to see the problem with her hair. It is back, out of her face. It looks clean, combed, and appropriate. I guess I fail to see the problem."
The family told WWL-TV that they are considering suing the school for discrimination.
By Ololade Olatimehin