On July 23rd, the eyes of the nation will be focused on Tokyo, Japan, the site of the 2021 Olympic Games. The Games would normally have been held in the summer of 2020 but were postponed due to the COVID-19 pandemic around the world. The Games are carrying on this year, although with some trepidation. There will be a very limited public at the Games. Fans have been told to watch the Games on television. This, no doubt, is for everyone's safety.
The first modern-day Olympic Games were held in 1896 in Athens, Greece. Since that time, the Games have been held in various locations throughout the world including Paris, London, Los Angeles, and Rio. The Olympics Games are hosted every four years and there are Summer Games and Winter Games held in alternate even years.
The Olympic Summer Games is what we'll all be watching this July. The Games begin with an Opening Ceremony, which is a chance for all the athletes from all the countries to parade around carrying the flag of their country and waving to their fans. This year, because of the absence of the crowd, they may be waving to the cameras instead. At any rate, the Opening Ceremony is a spectacular event to kick off the Olympic Games.
Well, let's shift our focus to the athletes. It takes athletes years of practice, preparation, and patience to get ready for the Olympics Most athletes started preparing in their childhoods, often practicing long hours and several days a week. It takes a serious commitment for athletes and their families. It means being able to look ahead several years into the future with an eye on Olympic gold.
Who will represent the United States? The team, known as Team USA, has a host of athletes that will be heading to Tokyo to represent the United States. In particular, several African-American athletes are making the journey to the Olympic Games this year.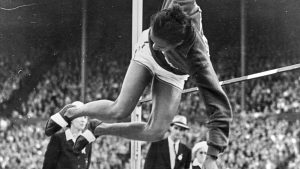 Like most entities in this country, the Olympic Games have not always been so diverse in terms of African-American participation. But African-Americans have been participating since almost the beginning of the Games. According to Black Central (goblackcentral.com), Mace Montgomery started it off by being the first African-American member of a U.S. Olympic Team. Montgomery was actually not an athlete but a trainer of the track and field team at the Paris Olympics in 1900. Also, at the 1904 Games in St. Louis, African-American George Poage, a track and field athlete, was the first to win a medal–he won two bronze ones. The first African-American male gold medalist was John Taylor,a track and field athlete, and the first African-American woman gold medalist was Alice Coachman, also a track and field athlete. Since those early days and throughout the years, we have heard of many Black athletes who have made headlines such as Jesse Owens, Florence Griffith Joyner (Flo Jo), Muhammad Ali, Dominique Dawes, and so many more. And now we can look forward to hearing about Simone Biles (gymnastics),  Grant Holloway (track and field), Allyson Felix (track and field), and so many others who will grace Tokyo with their presence. One can only hope that Black athletes, and all athletes, will continue to strive toward excellence so that they can continue to be a part of this awesome event known as the Olympics.
Now, diversity, equity and inclusion are important and on-going goals of the U.S. Olympic and Paralympic Committee (USOPC). On the USOPC's website, you will find a slogan that reads: "Many Faces, One Team, One Mission." The website further shows the Committee's diversity, equity and inclusion mission statement, which reads: "The U.S. Olympic and Paralympic family embraces differences for better athletic performance and business results."  Having such a mission statement means that the USOPC has a commitment to making the Olympics more diverse,more equal and more inclusive. Delve further into their website and you will learn more about their commitment in this areas.
"The goal of diversity, equity and inclusion at the United States Olympic & Paralympic Committee is twofold: to improve performance and to ensure long-term support for Team USA by harnessing the synergy of diverse talents to create a high-performing team. The USOPC is invested in providing access and opportunity for communities of color, the LGBTQ community, people with disabilities and those of all genders and gender identities…"
Having a diverse Team USA means that fans of the sports world are more likely to see themselves represented as they watch the Games. A more diverse, equal and inclusive team is ultimately better for all involved and better for this diverse country.
So what's in store for you at the 2021 Olympic Games? Well, we've already talked about the Opening Ceremony on July 23rd, which is sure to be awesome. But get ready to tune in for some highly-competitive sports action. Do you like swimming? Track and Field? Gymnastics? Tennis? Is basketball your thing? Who's your favorite athlete? Who are the ones to watch? For whom are you rooting?
Well, you'll have to answer those questions for yourself. But one thing'is for sure. If you tune in to the Olympics this July 23rd through August 8th, you're in for a spectacular show that is unmatched by any other.  It is a coming together of nations for a common purpose.  Through the Olympic Games, we can find hope for a better world!
Written by Sharon S. Johnson
Check out the Team USA video that was released in April at the mark of the 100th day before the Olympics. The tagline is "You know us as athletes. We're so much more…"
For the roster of all Team USA athletes, check out https://www.teamusa.org/athletes.
PHOTO CREDITS
Featured image, Olympic Rings (Cover photo):  Original creator: Pierre de Coubertin (1863-1937)Photo by Bryan Turner on Unsplash
Olympic Rings (at top of article):  Original creator: Pierre de Coubertin (1863-1937) – Vector graphics of rings at top of article by OAlexander
Photo of Alice Coachman:  U.S. Olympic and Paralympic Museum
Photo of athletes:  eamusa.org/athletes site.  Left to Right: Deja Young (Para Track and Field), Grant Holloway (Track and Field), Oksana Masters (Para Cycling, Para Cross Country Skiing), Simone Manuel (Swimming), Kyle Snyder (Wrestling)