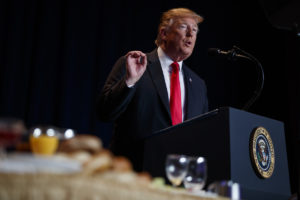 President of the United States of America, Donald Trump has on Thursday pledged support for religious leaders, promising to never let them down.
Trump made the pledge during the National Prayer Breakfast while celebrating some of his administration's most contentious faith-related moves, saying "I will never let you down, I can say that. Never!"
The President said in his speech, "I am honored to be here with leaders from across the country and all around the world who are all united by a shared belief in the glory of God and the power of prayer."
Giantability News gathered that Trump went ahead to promise the faith assembly his commitment to protect the unborn, "All children, born and unborn, are made in the holy image of God," vowing to "build a culture that cherishes the dignity and sanctity of innocent human life.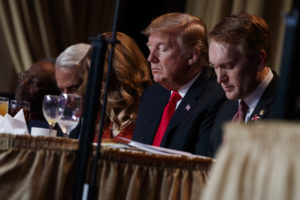 "Every life is sacred and every soul is a precious gift from Heaven. As the Lord says in Jeremiah, 'Before I formed you in the womb I knew you, before you were born I set you apart." He said.
While praising charities and religious groups for supporting people in need, Trump said, "Every day, the people in this room demonstrate the power of faith to transform lives, heal communities and lift up the forgotten.
"As President, I will always cherish, honor and protect the believers who uplift our communities and sustain our nation to ensure that people of faith can always contribute to our society." He said.
"Prayer makes amazing things possible, even an end to political gridlock. On today and every day, let us pray for the future of our country." Trump said.
The event celebrated the mighty power of faith and prayer and also believers for their contributive work of justice in America and the world over.