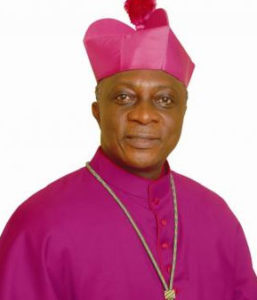 The Catholic Archbishop of Lagos, Most Reverend Alfred Adewale Martins has made an appeal to all ethnic groups in the country to embrace peace and harmony.
This was contained in a statement released on Thursday in reaction to reports of violence in parts of the state during last weekend's Presidential and National Assembly elections.
Rev. Martins, in the statement, urged those perpetuating the violence to sheath their swords for peace and tranquility, which the state "is known for", while advising them to desist from inciting ethnic violence and disunity in the state that can bring about breakdown of law and order.
"I wish to call on Nigerians, especially residents of Lagos not to allow their political differences degenerate into any form of violence such that will polarize the state and throw it into chaos.
"We hear of how the elections of Feb. 23 are currently generating some tension in parts of the state which ethnic group pitched against another.
"Lagos is a metropolitan city and home to over 17 million Nigerians, It does not matter where we come from or which religion we profess.
"We should learn to accommodate each other's political differences; shun violence and avoid the temptation of undermining the security of life and property of any one.
"Lagos is known as one of the most peaceful cities in the country. Let us desist from any act capable of undermining our peaceful coexistence, he said.
He condemned the cases of violence that marred the elections in the state, describing it as "unfortunate and condemnable." The Archbishop was disappointed that in spite of the sensitization efforts made by churches and the Civil Society Organizations to educate them on their rights and duties before, during and after the elections, people were still intolerant.
The man of God implored the government and law enforcement agencies to investigate the matter to prevent future occurrences, especially, next week's elections.
"We are in a democracy which allows for one-man-one-vote. It is wrong for anyone to dictate or impose his or her will on another concerning who to cast his or her vote for.
"Such acts are undemocratic and undermine the provisions of the electoral act. I urged those involved to desist from such acts forthwith," he said.
For those contesting for political positions, he charged them to urge their supports to abstain from intimidating and infringing on the rights of the electorates from making their choices.
He further called on parents and guardians to warn their wards to resist the temptation of being used as canon fodders for political violence."