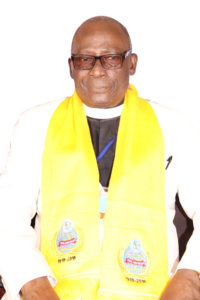 The renowned man of God who presently heads one of the first Pentecostal churches in Nigeria, Christ Apostolic Church (C.A.C) , Worldwide had his Primary School education between 1955 and 1960 during his adolescent days.
The now 74 years-old Pastor Abraham Olukunle Akinosun from 1962 to 1965, delved into plumbing at the Ibadan City Works where he passed his grades' tests in plumbing.
With his education and experience in that field, Pastor Akinosun explored his plumbing knowledge in several companies such as Drake and Skull Limited, Julius Berger, G. Cappa, Italcom, amongst others.
His sojourn into the gospel ministry went into gear in 1972 after which he enrolled into the C.A.C Bible Training College from 1973 to 1975. After the training, he worked as a Catechist at C.A.C Oja-Odan and then got posted to C.A.C Yaba. To further his studies in Theology, he travelled to several countries in Europe like West Germany, Sweden, and Belgium where he attended the Continental Theological Seminary and obtained a degree in Biblical Studies.
After his ordainment as Pastor in C.A.C in 1981, he got posted to C.A.C Epinmi Centre and was transferred in 1982 to the C.A.C Theological Seminary, Ile-Ife as a Lecturer. He then got transferred to the Polytechnic, Ibadan in 1984 to pastor an assembly and by 1985; he was transferred to C.A.C Sango, Ibadan.
As a reward for his commitment and immense input to the work of God in the church, he got promoted to the rank of District Superintendent and was posted to C.A.C Itire. Next, he got posted to C.A.C Oshogbo District Coordinating Council as the Chairman in year 2000. He remained in the position till December 9, 2010 when he was appointed General Superintendent, Christ Apostolic Church, Worldwide.
The Osun State Government also recognized and appreciated Pastor Akinosun for his humanitarian services in the society by awarding him in 2002 with the title: "Justice of Peace" (JP).
The distinguished man of God was between 2002 and 2010 the Chairman, Christian Association of Nigeria (CAN), Osun State Chapter before he was appointed President of the church on December 31, 2011.
As a distinguished author, Pastor Akinosun has published books such as Pastoral Theology in Action, The death of the martyrs, The 12 apostles of Jesus Christ, Improve your preaching (Homelethics), just to mention a few.
As today February 27, marks another year for you on the face of the earth, it is our prayer at Giantability Media Network, publishers of Livinghope Magazine, that the Lord God will continue to enlarge your coast while the grace the Almighty has been giving you to work in His vineyard shall not cease.
God Bless You and Happy Birthday.