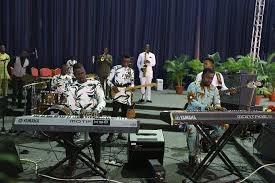 Robbers have attacked Idu/Karmo chapter of Dunamis International Gospel Centre in Abuja, absconding with musical instruments and other equipment worth over N2 million.
Giantability News gathered that the Pastor of the Church, Peter Joseph told journalist from TheAuthorityNews that he suspected an insider from the Church gave information to the armed robbers who attacked the church recently.
The cleric explained that the robbers were over 20 in number that attacked the church and tied security men, making away with instruments and equipment worth more than N2 million around 2:30am that day.
Joseph said, "The robbers, about 20 in number, well-armed with dangerous weapons, stormed the church premises around 2:30 am and made away with musical instruments and other electronic gadgets worth over N 2 million. They really overpowered our security men and I think that it was a well-coordinated robbery.
"Probably, they had insider information, because that day was a Wednesday being the first service of the month as we usually connect to our headquarters every first Wednesday of the month.
"Every first Wednesday of every month, we usually connect to our headquarters and is usually anchored by our Senior Pastor from the headquarters. They cut our burglary proof here and did the ugly act and made away with our musical instruments and other gadgets." The cleric narrated.
He called on residents of the area and members of the church to be vigilant, adding that the case had been reported to the police who said they are investigating the matter.
Joseph advised individuals to resist all forms of desire to part take in evil acts, calling them to seek God's face so as to avoid the wrath of God.
Meanwhile, the police are yet to speak to journalists on the issue.