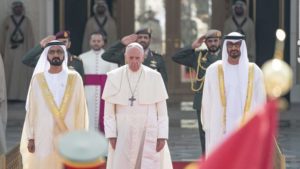 Leader of the Roman Catholic Church, Pope Francis on Sunday made a visit to Dubai where he met with the United Arab Emirates (UAE) Crown Prince, Mohamed bin Zayed Al Nahyan.
The trip which is recorded as the first in history saw the Pope welcomed with military honors and a flying squadron at the Arabian Peninsula, as seen in a video on Youtube.
UAE's Vice President and ruler of Dubai, Mohammed bin Rashid Al Maktoum was present at a meeting in the presidential palace, capital Abu Dhabi , which took place after the cleric was welcomed.
The head of the Catholic Church is expected to hold a meeting with a council of Muslim elders before speaking at an Inter – religious meeting attended by hundreds of representatives from diverse faiths.
He is also hosting an open air mass at a sport stadium on Tuesday, with roughly 130,000 worshippers in attendance from neighboring countries.
Meanwhile, a non-governmental organization based in New York, Human Rights Watch (HRW) called on the Pope to use his visit to UAE to caution rulers of human right violations in the war in Yemen and their repression of critics at home.
The group in a letter addressed the Pope to lead international pressure that will hold the UAE leadership accountable. It read, "Despite its assertions about tolerance, the UAE government has demonstrated no real interest in improving its human rights record."
Abu Dhabi's Prince thanked the Pope for his visit, adding that they were "delighted" to meet him for a meeting amid the pontiff's trip to the United Arab Emirates.
The Prince tweeted pictures of the meeting, he wrote: "We discussed enhancing cooperation, consolidating dialogue, tolerance, human coexistence & important initiatives to achieve peace, stability and development for peoples and societies."